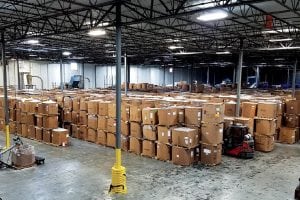 Business consultants love to say that if a company isn't changing it's probably declining. Fortunately, that's not a concern for Georgia reclaimer US Plastics Recovery, a business where evolution is embraced.
The company, which launched in 2006, this May completed a transition to a new facility. It's the third different site the reclaimer has occupied, and each has been bigger than the last. The newest space is 75,000 square feet and will allow US Plastics Recovery to triple its capacity by the end of this year.
The company notes it invested more than $1 million to move into the building, which is located just northeast of Atlanta in the city of Lawrenceville.
"It was well worth the cost," Daniel Nolan, company president, said in a release, "considering that this facility soon will be diverting over 50 million pounds per year of industrial polymer scrap from the nation's landfills into high-quality consumer products."
The company, which is currently operating at a capacity of 30 million pounds per year, handles a full range of plastic resins from the post-industrial sphere and sells regrind and pellet into the open market. Most of its buyers come from the auto, pipe and pharmaceutical sectors.
In addition to the new facility, US Plastics Recovery has integrated more equipment onto its line. Two Vecoplan shredders have been added, complementing the processor's existing 70-inch, 250 horsepower Vecoplan machine.
The company also uses two high-capacity grinders, a wet grinding line, a screener with dust collection to separate pellet and talc powder, elutriation systems, magnets on all of the shredders and grinders, and a float-sink line to separate and clean certain polymers.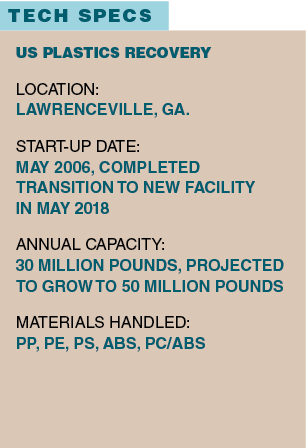 Within the next six months, the operation plans to bring on another float-sink line as well as a silo blender. The second float-sink system will allow the company to expand on the polymers it's separating and cleaning, a move that will lead to a higher quality end product, according to Steve Hogan, the company's chief trading officer.
But US Plastics Recovery's systematic investments extend beyond just machinery used to sort material. It's also pushing forward on the data analysis front, bringing on an information management system designed in-house that tracks material moving through the processing line and helping to keep an eye on employee productivity.
"It also provides real-time inventory so that at a click of a button we can see exactly what's ready to ship or how much more we need to produce to make a full load," said Hogan.
The company notes it offers plastics processing services to refineries, pelletizers, molders and extruders. Services include scrap purchasing and toll processing of polymers and secure destruction of products. Its customers are located across the eastern U.S. and Canada.
And back at the processing plant in Georgia, upgrades are expected to continue to be the norm.
"The investment in our employees and our equipment allows [us] to produce a high-quality regrind, day in and day out," Hogan noted. "Every year we are purchasing and adding new equipment to maximize our throughput so our customers can receive their material in a timely manner."
This story originally appeared in the Spring 2018 issue of Plastics Recycling Update. Subscribe today for access to all print content.
Know of a plastics processor that should be featured in this space? Email [email protected].