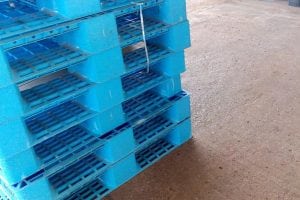 Two plastics recycling company executives will spend two years in prison for their involvement in a scheme to buy and recycle stolen Postal Service plastic pallets.
Jorge Villalobos, 41, and Hugo Guzman, 40, each pleaded guilty to conspiracy to commit conversion of government property and conspiracy to launder money. The men are president and vice president, respectively, of Go Green Industries, a Riverside, Calif. plastics reclaimer.
Judge Manuel L. Real, a judge in U.S. District Court for the Central District of California, sentenced Villalobos on April 2 and Guzman on July 19. In addition to receiving prison time, they were ordered to pay $3.4 million in restitution.
According to a press release from the U.S. Attorney's Office, the restitution, which is the largest amount ever ordered for theft of U.S. Postal Service property, has been paid in full.
"These defendants siphoned millions of dollars from the USPS by actively seeking out stolen pallets, and pumping money from the sales into their business," U.S. Attorney Nicola T. Hanna stated in the press release. "They intentionally incentivized theft of government property and their sentences should deter those who would follow in their footsteps."
Outline of the operations
According to prosecutors, Villalobos and Guzman were involved with purchasing black and orange HDPE shipping pallets that had been stolen from the Postal Service. They were plainly labeled as USPS property. Purchased in bulk, each pallet cost the USPS $20 to $25.
Go Green bought and shredded the stolen pallets between about December 2008 and March 2014, according to the U.S. Attorney's Office. According to court documents, one price list obtained by authorities indicated a supplier was selling stolen pallets, which each weighed between 16 and 20 pounds, for $5.75 a piece. Other documents submitted by an Internal Revenue Service investigator indicated Go Green may have purchased some pallets for as little as $3.
Go Green also purchased flake from a company called Alameda Recycling. Run by uncharged co-conspirators, Alameda Recycling had shredded stolen USPS pallets to generate the flake, according to prosecutors.
Go Green then sold the flake to manufacturers. It then transferred the proceeds into two "straw-person accounts," using those account to perpetuate the scheme, according to the press release.
Smuggling flake
The judge in the case asked the U.S. Attorney's Office why it took so long for them to put a halt to the illegal operation after they learned about it. In a reply to the judge, prosecutors noted the complexity of the case. Go Green was processing legally obtained plastics at the same time it was processing the stolen material, they said, and the defendants were transferring funds to try to hide the source of the proceeds.
The U.S. Attorney's Office response also revealed that the investigation began based on leads from independent plastic thieves who had been caught with stolen USPS pallets. Company employees only came forward and provided information after authorities executed a search warrant in March 2014.
In an affidavit accompanying the search warrant, a Postal Service inspector said that after authorities began investigating Go Green, instead of shipping flake directly from Alameda Recycling to Go Green, as had been done before, flake was shipped from Alameda Recycling to an operation in Mexicali, Mexico. There, it was given a manifest and certification falsely claiming it originated in Mexico, and it was then re-imported and trucked to Go Green.
Photo credit: mindroom14/Shutterstock

More stories about courts/lawsuits