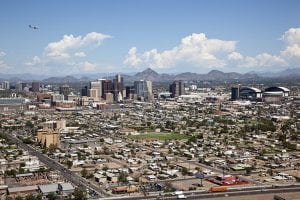 A major southwest city is looking to develop a facility that will process the city's mixed plastics stream through plastics-to-fuel or mechanical recycling. It has received three proposals.
Launched as part of the city's Reimagine Phoenix initiative that seeks to hit 40 percent citywide diversion, the city's plastics project is looking for a company to process plastics Nos. 3-7 in "waste-to-product or waste-to-liquid fuel technologies."
The city specified that it "will not consider incineration or combustion technologies."
Three companies submitted proposals for the solicitation, which closed July 18: FGM3 Environmental, PolyFuel and Renew Phoenix.
An evaluation team will narrow the list in August with the goal of having a final recommendation to the Phoenix City Council in November. The city anticipates a contract period of 10 years for the winning proposal, with multiple renewal options.
Local public radio affiliate KJZZ reported on the project last week.
Stream of opportunity
About 521 tons of mixed plastics are captured through two city-owned MRFs per year in Phoenix, according to the solicitation. But there are additional volumes of mixed plastics that could be captured, according to a recent waste characterization study, which estimated there are 13,038 tons of mixed plastic in the city's garbage and recycling streams each year.
The city is particularly interested in proposals that would "expand recycling opportunities for additional plastic waste to be separated and handled" by the city's recycling program, according to the solicitation. The winning proposal will be allowed to accept material beyond what is supplied by the city, but only after the operator is taking all the mixed plastics provided by the city.
According to the RFP, the city wants to locate the winning proposal at a site dubbed the Resource Innovation Campus (RIC), described as a "regional circular economy hub." Resource Recycling previously reported on the RIC.
Although the plastics diversion effort has been in progress for years and is part of a wider city strategy, at least part of the impetus is due to the current market downturn, according to a report on the project that was included when the council voted to issue the RFP in May.
"Recent changes in commodities recycling markets have impacted how the city handles plastics #3-#7," the report states. "Previously, plastics #3-#7 were bundled and sold on the open market, whereas today most of these materials are being sent to the landfill."
However, the city's MRF operator has been separating PP from the 3-7 stream and selling it.
Photo credit: Tim Roberts Photography/Shutterstock

More stories about processing