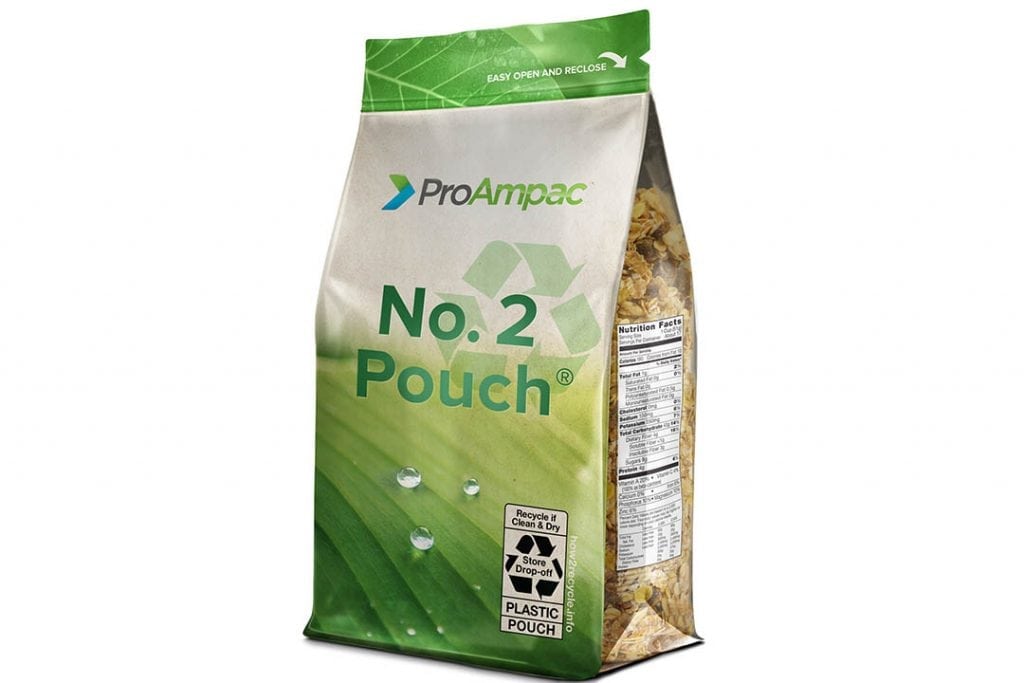 A packaging converter has released a stand-up pouch that can be recycled via retail PE film collection.
Cincinnati-based ProAmpac has launched its No.2 QuadFlex pouch, which carries the How2Recycle logo telling consumers to bring it back to store drop-off sites.
Other recyclable films for pouches have already been marketed. For example, Dow Chemical Co. years ago developed materials for an all-PE pouch that can be recycled via retail drop-offs. Since then, Nova Chemicals released its own technology to make recyclable stand-up pouches.
ProAmpac's notable innovation is the design of the recyclable pouch.
"What's unique about it is we're able to make a flat-bottom box-style pouch out of recyclable material," said Vance Fortenberry, director of product development at ProAmpac. "This is really all about the pouch style and our ability to convert it into that pouch style."
The flat-bottom style provides five "billboards" on which to display graphics, and it's popular with lawn care, food and pet food companies, Fortenberry said. The style is growing in popularity. Earlier recyclable pouches have been bottom-gusset stand-up pouches, which have side seals and fewer panels on which to display graphics and text. ProAmpac's first recyclable stand-up pouch, introduced in 2011, was a bottom-gusset design, for example.
Developing the flat-bottom, box-style pouch required overcoming production challenges associated with its quad-seal structure. The coextruded film is made up of different layers of various densities of PE. One challenge ProAmpac had to overcome was determining how the PE materials should be layered so it can run a single web through the Totani Packaging Machine, Fortenberry said. "That machine is very unforgiving in terms of temperature and tension and what it requires in order of form a pouch out of it," he said.
Over a year in development
It took 14 to 16 months to go through several iterations of the material and then fine-tune the processing parameters to produce the pouches at a reasonable efficiency, Fortenberry said.
The development was primarily done by White House, Tenn.-based Gateway Packaging, which was acquired by ProAmpac on May 1, 2018. The all-PE pouch underwent recyclability testing by Plastics Forming Enterprises, a independent testing and R&D company in New Hampshire, he said. The testing was conducted according to Association of Plastic Recyclers (APR) protocols. "It passed with flying colors," allowing it to carry the How2Recycle label, Fortenberry said.
ProAmpac is currently scaling up production for a lawn and garden product, he said, and it is in discussions with other customers considering it.
ProAmpac will also offer a recyclable version of the flat-bottom pouch with an EVOH layer, which provides an oxygen barrier to ensure sufficient shelf life for oxygen-sensitive foods. Specifically, ProAmpac's film supplier provides technology developed by Dow Chemical that makes the multi-material package recyclable in the PE stream. Dow Chemical achieves that by embedding an additive called Retain, which, when the plastic is melted, evenly disperses the EVOH into the polyolefin matrix.
Plastics Recycling Update wrote about the technology in June 2016, after Dow announced the availability of the recyclable PE-EVOH pouch. For that pouch, ProAmpac is still working to conduct recyclability testing before submitting the results to APR.
To receive the latest news and analysis about plastics recycling technologies, sign up now for our free monthly Plastics Recycling Update: Technology Edition e-newsletter.
More stories about technology