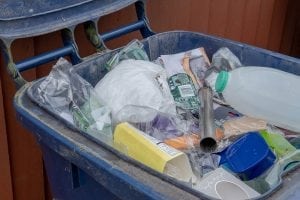 MRFF has found a MRF.
The Materials Recovery for the Future (MRFF) project will partner with a Pennsylvania sorting facility to generate bales of flexible plastic packaging (FPP). The materials recovery facility (MRF), which is owned by J.P. Mascaro and Sons, will install optical sorters to separate the flexible packaging from the single-stream mix.
"Our company is thrilled to partner with the MRFF partners on this project," Joseph P. Mascaro, company director of sustainability and general manager of the MRF, stated in a press release. "We are confident that the pilot will be successful and will generate industry data to show FPP generators, municipalities and the recycling industry that FPP can be efficiently and economically recycled and marketed instead of being landfilled."
MRFF is a years-long industry project to solve challenges holding back recycling of FPP, a category that includes items such as films, wraps, bags and pouches. FPP recycling has been held back by issues related to sorting, contamination and the multi-material makeup of many FPP items. At the same time, FPP is quickly taking over stores shelves, prompting new efforts to find recycling and recovery solutions.
Consulting and research firm Resource Recycling Systems (RRS) is leading the project on behalf of the Foundation for Chemistry Research and Initiatives, a nonprofit organization established by the American Chemistry Council (ACC).
How we got here
MRFF is one of a handful of recent efforts exploring recovery of FPP materials. A separate project, called the Hefty EnergyBag program, directs residents to place FPP and other difficult-to-recycle packaging types in Hefty EnergyBag orange bags. The bags are then taken to a MRF, pulled off the sorting line, baled and shipped to energy recovery facilities.
Additionally, Recycle BC, the extended producer responsibility group for printed paper and packaging in British Columbia, has begun accepting FPP drop-offs at depots around the province. The goal of the project, which is run in partnership with reclaimer Merlin Plastics, is to see if the materials can be recycled. Any FPP that can't be recycled will be processed into fuel for burning.
MRFF takes a different approach in that it's testing how FPP placed in a single-stream cart can be effectively separated at MRFs. And it's looking at both mechanical recycling and energy recovery options for the bales.
The goal is to generate data on the most efficient and economical ways to recycle FPP, according to the release.
The Pennsylvania pilot project won't be the first time MRFF has tested the ability of MRFs to sort FPP. In 2015 and 2016, RRS conducted smaller-scale tests at MRFs in San Diego; Surrey, British Columbia and Regina, Saskatchewan. The tests involved adjusting sorting equipment, including screens and optical sorters, to see how well they could separate FPP that had been thrown into the mix. One of the challenges was separating FPP from paper.
In August 2017, RRS also tested sorting at a large, high-tech MRF in North Las Vegas, Nev. According to a recently uploaded test recap, that effort involved planting RFID tags on 3,217 pieces of FPP and dropping them into the sorting system over a 15-minute period. Overall, the FPP made up 3 percent of the weight of material that passed through the single-stream system during that time. RFID readers placed at critical locations in the MRF monitored the FPP flows.
The MRF had a new optical sorter programmed to eject non-fiber materials, including FPP, to clean up paper bales. Part of the study involved seeing how effective it was at separating FPP.
The optical sorter itself was highly effective, missing only 3.4 percent of FPP. But the problem was much of the FPP never got to the optical sorter because, earlier in the system, it had followed newspaper and cardboard through the fiber screens. In fact, 60 percent of the FPP, by count, followed paper through the first newspaper screen into the paper bunker. The good news is the amount of fiber in the recovered FPP appeared to be relatively low, making up roughly 15 percent by weight.
RRS' Chris King wrote in his report that the results showed additional optical sorters would be needed in any pilot MRF. Specifically, the optical sorters would be needed to capture FPP that followed fiber through the screens. The screens would also need to be adjusted to balance the flow of FPP and ensure they don't overwhelm an optical sorter with huge volumes of FPP, he wrote.
Pennsylvania project
The MRFF project first advertised it was looking for a facility to partner with in early 2017. Recently uploaded documents indicate project partners by May 2017 had preliminarily settled on J.P. Mascaro and Sons' TotalRecycle MRF in Berks County, Pa. as the best candidate. At that time, they put conversations with other MRF operators on hold.
RRS estimates the TotalRecycle MRF will recover 3,100 tons per year of post-consumer FPP for various end markets. The MRFF project also involves testing end uses for the recovered plastic. End markets for recycled FPP remain underdeveloped in the U.S.
The TotalRecycle MRF will install optical sorters, provided by Van Dyk Recycling Solutions, to target the FPP. The two-year pilot program will begin in late 2018 with the installation of the sorting equipment, followed by an internal testing period. RRS and the project team estimate communities served by TotalRecycle will be able to add FPP to their 'accepted' list in 2020.
"We are all committed to the success of this program and look forward to adding recycled flexible packaging into the circular economy," Steve Sikra, MRFF chairman and associate director of global research and development for Procter & Gamble, stated in the release. "As a side benefit, we expect to see the quality of J.P.'s other recycling streams improve as the flexible plastics are processed."
The MRFF collaborative members include the following companies and organizations: ACC, Amcor, Association of Plastic Recyclers (APR), Canadian Plastics Industry Association, Dow Chemical, Flexible Packaging Association, LyondellBasell Industries, Nestlé Purina PetCare, Nestlé USA, PepsiCo, Plastics Industry Association, Procter & Gamble, SC Johnson, Sealed Air and Target. Chevron Phillips Chemical recently signed on as a new member.
Photo credit: Nick Beer/Shutterstock
More stories about research