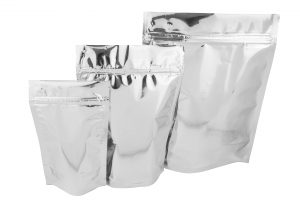 A group that includes major consumer brands wants to connect with a sorting facility to help advance the recovery of a material that is often sent to disposal.

The Materials Recovery for the Future (MRFF) project is seeking to partner with a U.S. materials recovery facility (MRF) and the community it serves to pilot the curbside recycling of flexible packaging. The project is offering technical and financial assistance to help upgrade the participating MRF.
Flexible film packaging is a category that includes pouches and bags. While growing in popularity on store shelves, flexible film packaging is rarely recycled. That's because most MRF sorting lines weren't set up to sort lightweight flexible packaging. Additionally, most plastics reclaimers are unable to separate layers or otherwise process multi-material flexible packages into high-quality plastics.
At the same time, flexible film packaging ends up at MRFs, regardless of whether it's accepted in the local recycling programs. It's usually landfilled as residue.
Project aims
The MRFF project is working to overcome challenges to developing recovery systems and markets for flexible films.
"With this pilot, we aim to demonstrate the potential to capture flexible film packaging and use the material as a feedstock for U.S. manufacturing while improving the quality of other recycling streams processed at MRFs," Stephen Sikra, head of Global Research and Development at Procter and Gamble, stated in a press release.
P&G is one of 15 members of MRFF, which is an initiative of the Foundation for Chemistry Research and Initiatives, a nonprofit group established by the American Chemistry Council. The MRFF members include Amcor, The Dow Chemical Company, LyondellBasell Industries, Nestle Purina PetCare and Nestle USA, PepsiCo, Plum Organics, Procter & Gamble, SC Johnson, Sealed Air and Target, as well as the Association of Plastic Recyclers, Flexible Packaging Association, The Plastics Industry Association and the American Chemistry Council.
Earlier experiments
In late 2015 and early 2016, MRFF tested the potential for using existing optical sorters at MRFs to separate flexible films. The challenge is the materials tend to follow fibers through facilities, often ending up in paper bales.
The trials were conducted by Ann Arbor, Mich.-based consulting firm Resource Recycling Systems (RRS), which found that existing single-stream sortation lines utilizing screens and optical sorters could be optimized to create flexible film bales.
"Our MRF tests last year indicated optical sorters can efficiently sort flexible packaging, and improvements in disc screen technologies have reduced the problem of bags and films wrapping on shafts," said Susan Graff, RRS principal and director of the MRFF project. "The facility that enters this program will receive co-financing to help reduce their waste residues and develop new plastic product bales. This is the circular economy in action."
Partner criteria
With its pilot project, MRFF is now seeking to partner with a single-stream MRF that processes at least 20 tons per hour and meets other criteria. For example, it must serve a community program that is driven to add more materials and is near potential end markets. The deadline for MRFs to throw their hat in the ring is April 7.
RRS developed an economic feasibility model looking at the potential financial impacts of adding flexibles. The results of the analysis will be used to help determine co-financing arrangements for the necessary equipment upgrades at the selected MRF.
The partner MRF is expected to be selected during the second quarter of this year, according to RRS.