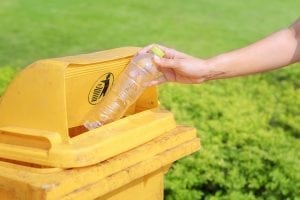 Canadians recycled slightly more plastic in 2016 than they did the previous year. That's according to a report released shortly before a Canadian plastics group unveiled its recyclability and recycling goals.
The Canadian Plastics Industry Association (CPIA) released its annual report on the amount of plastic recycled in the country of 35 million people. The study, conducted by More Recycling, showed Canadians recycled at least 325,000 metric tons of post-consumer plastic in 2016, up nearly 1 percent over the year before.
"While the net increase is good news, we're urging Canadians to take on a new dedication to recycling plastic packaging," Joe Hruska, CPIA's vice president of sustainability, stated in a May 28 press release. "Plastics recyclers want and need more supply; they have underutilized capacity creating ample opportunity for consumers and businesses to supply our recyclers with more plastics that can be manufactured into plastic products and packaging with recycled content."
The report examines material from residential sources, including bottles, non-bottle rigid packaging, film and foam. It also looks at post-commercial material, which includes drums, buckets, crates, battery casings and agricultural film.
Volume increases were not uniform across all categories. The following saw increases in total weight recycled year over year: Bottles (up 5 percent) and film (up 7 percent). The following experienced decreases: non-bottle rigids (down 11 percent) and foam (down 83 percent). Because foam numbers are substantially lower than other categories, relatively small weight shifts result in large percentage changes.
More Recycling estimated 84 percent of Canada's recovered plastic in 2016 was processed in the U.S. or Canada, up from 79 percent in 2015 and 78 percent in 2014.
This is the eighth year CPIA has conducted the study, which is based on voluntary surveys sent to hundreds of companies.
Industry goals
On June 4, CPIA and the Chemistry Industry Association of Canada (CIAC) announced their goals of 100 percent plastic packaging reuse, recycling or recovery by 2040. They also want to ensure 100 percent of plastic packaging is recyclable or recoverable by 2030.
The announcements were made in advance of World Environment Day, June 5.
The American Chemistry Council (ACC) recently unveiled the same recycling/reuse/recovery and recyclability/recoverability goals.
Photo credit: Bohbeh/Shutterstock
More stories about Canada