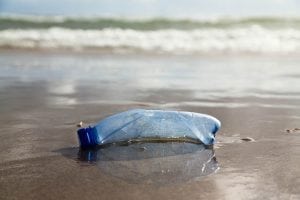 Multiple efforts that aim to gather information or provide a funding source for ocean plastics cleanup have recently been announced.
Creative funding source: A partnership intended to protect remote islands from marine plastics pollution has begun selling sunglasses made from a variety of ocean plastics. Called Clean Waves, the project will provide funding for more pollution prevention efforts, because the revenue from the sunglasses will be put toward protecting additional islands for a year.
Involved in the collaboration are beer producer Corona and Parley for the Oceans, an ocean protection group. The two organizations have been intercepting plastic from remote islands and rallying volunteers for clean-ups and education campaigns. With the launch of the Clean Waves project, they will be collecting and utilizing PET, nylon, HDPE and PP for use in the sunglasses. The glasses range in price from $300 to $320.
Plastics research voyage: A crew of 24 will sail from Hawaii to British Columbia through the densest area of ocean plastics in the world. Their goal? To collect data on the Great Pacific Garbage Patch.
Recycling equipment manufacturer Tomra has funded the voyage, which has been dubbed eXXpedition North Pacific 2018 and will be carried out by a crew of women.
"Crew members will make daily trawls for plastics and pollutants, and collect data for a variety of global datasets and scientific studies during the voyage," according to a press release from Tomra.
Photo credit: Canetti/Shutterstock
More stories about research