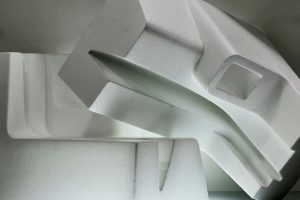 Global petrochemicals company Total has partnered with a startup that dissolves and recovers EPS for recycling. Officials from both companies recently provided more details about the deal.
Total announced last month it signed a deal with Polystyvert, a Montreal-based EPS recycling company. Polystyvert's technology dissolves EPS in essential oils before purifying and reforming the plastic. The low-temperature method does not depolymerize the plastic, however.
"We're working together to develop the technology to strengthen it and adapt it to the needs of the market," said Jean Viallefont, Total's vice president polymers for Europe.
The Total-Polystyvert development agreement seeks to apply the technology to EPS in Europe's recycling streams. Solenne Brouard, Polystyvert's founder and CEO, said her company is also talking with Total North America. The two companies offered details on their partnership in an interview with Plastics Recycling Update.
Polystyvert has a pilot plant with a capacity of 15 kilograms by batch and a demonstration plant with a capacity of 125 kilograms per hour in a continuous process.
In 2017, Total conducted in-house trials that showed there was good potential in using dissolution processes to recover foam PS. The trials used technology that's similar to – but not exactly the same as – Polystyvert's. In the tests, Total recovered PS and successfully blended it with virgin plastic. Viallefont said the advantage of dissolution over depolymerization – a chemical recycling technique – is it uses less energy, making it more cost effective.
One of Total's goals is to enable Polystyvert's technology to be used to recycle EPS into food packaging, Viallefont said. The majority of the PS market requires food-contact approval, he noted, pointing to a smaller market for insulation products and other applications that don't require that approval. In separate news, Total announced in April that the U.S. Food and Drug Administration gave a green light to use the company's process to produce recycled HDPE for food packaging. Total already offers a PP compound with post-consumer content.  In the April announcement, the company said it continues to "progress in its effort to industrialize the polystyrene recycling process on its own production lines."
The French headquartered-company, which has facilities around the world, describes its Carville, La. plant as the world's largest PS facility, capable of producing 1.45 billion pounds per year.
When asked whether plastics producers are feeling pressure from consumers and governments to ensure recycling of their products at end of life, Viallefont said the supply chain agrees more of a circular economy is needed for plastics.
"I think that, globally, all of the stakeholders of the plastic chain, whether they're brand owners, converters, producers, have to adapt to a new world where collecting plastic and ensuring that the end of life of plastic is taken care of," he said.
Photo credit: Dini Gemelli/Shutterstock
More stories about technology