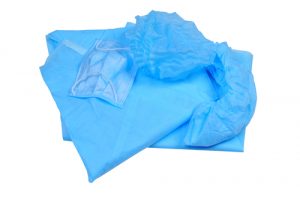 Researchers will use compatibilizers to determine what kind of properties they can achieve when recycling multi-material flexible plastics from hospitals. Their work will help determine recycling options for a substantial portion of the health care plastics waste stream.
The Healthcare Plastics Recycling Council (HPRC) has begun its project to determine recycling options for the difficult-to-recycle stream. Up to 60 percent of plastics generated by health care facilities is flexible material.
"The challenge with health care flexibles is that they are often composed of multi-material laminates, which are unrecyclable when using common recycling technologies," Chris Rogers, project manager for HPRC, stated in a press release. "Through this project, we hope to shed some light on the physical properties these materials will have when processed with different types of compatibilizers applied in varying concentrations. By better understanding these properties, recyclers can better determine potential opportunities to compound these materials with other products for resale markets and therefore better understand their value."
A total of 2,000 pounds of flexibles, including sterilization wrap, Tyvek and film packaging, will be collected from hospitals in Allentown, Pa.; Bethlehem, Pa.; Cleveland; and Lebanon, N.H. The materials will be sent to recycling equipment company Erema's Ipswich, Mass. facility for initial processing. Then, they'll be sent to the University of Massachusetts Lowell (UMass Lowell), where students in the Plastics Engineering Department will mix in commercially available compatibilizers.
After the plastics are extruded and injection molded, testing and analysis will occur. The results of that work, expected to be available by mid-summer, will help identify potential end-market applications, according to the HPRC.
"The volume of discarded health care plastics is huge and the ability to recycle this material would reduce the landfill burden while preserving the value of these highly engineered products," said Margaret Sobkowicz, associate professor in the Francis College of Engineering at UMass Lowell. "The students participating in this research will not only learn hands-on processing skills, but they will also gain appreciation for the importance of sustainability in the plastics industry."
Packaging Digest has more details on the project, which is funded by HPRC members Baxter, BD, DuPont, Eastman, Johnson & Johnson, Medtronic and Nelipak Healthcare Packaging, with additional money from the Flexible Packaging Association.
In December 2016, Plastics Recycling Update wrote about the results of a separate project by HPRC and the Plastics Industry Association to recycle noninfectious plastics from Chicago-area hospitals. That demonstration project identified impediments to recycling, such as low material volumes and values and sorting difficulties, but identified key insights that can be used to boost health care plastics recycling.
HPRC was also the winner of the Recycling Innovators Forum in 2014. That event was part of the Resource Recycling Conference.
Photo credit: Andrienko Anastasiya/Shutterstock
To receive the latest news and analysis about plastics recycling technologies, sign up now for our free monthly Plastics Recycling Update: Technology Edition e-newsletter.
More stories about technology