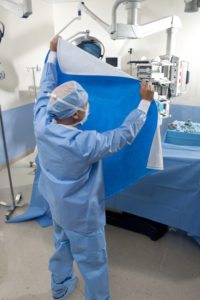 Keep recycling simple and be patient with generators, because behavior change takes time and requires consistent reinforcement. That may sound like advice for residential curbside recycling programs, but it's also key to establishing a recycling program for plastics coming out of hospitals.
A report examining a recently completed pilot project in the Chicago area offers details on opportunities and challenges in health care plastics recovery. Organized by the Healthcare Plastics Recycling Council (HPRC) and the Plastics Industry Association, the project tested the viability of collecting noninfectious hospital plastics, sorting them and sending them downstream for processing.
It found potential in creating a regional health care plastics recycling program, but it also identified key challenges to making such a program profitable for the recycling community.
"Overall, the project, a first step into exploring the possibilities of regional collaboration, has yielded a number of practical actions that both hospitals and recyclers can take to facilitate increased health care plastics recycling," the report states.
The Healthcare Plastics Recycling Council was a winner of the 2014 Recycling Innovators Forum, organized by Resource Recycling, Inc., the parent company of Plastics Recycling Update.
A regional approach
One of the barriers preventing individual hospital programs from achieving economic viability is the lack of material generated by any one hospital, according to the report. So the eight-month project, which kicked off in the spring, sought to overcome that barrier by bringing multiple hospitals in one region — in this case five facilities — into a program.
During the project, plastics came mainly from the main operating rooms and ambulatory surgery centers at the hospitals. They were transported by Waste Management and Lakeshore Recycling Systems to sorting facilities before being sent downstream for processing. One of the most plentiful materials generated for recycling was sterilization wrap, often called "blue wrap," made of PP.
The report noted that a collection program must be simple to get clinical staff to participate. The project team recommended starting with one commodity and demonstrating success there before adding additional materials. The project organizers also emphasized the importance of having certain hospital staff members take leadership of the program.
"Program champions need to be patient and remember that behavioral change can be a slow process that requires consistent reinforcement of the desired behaviors," according to the report.
Materials recovery facility challenges
The authors also touched on the fact that commingled materials have marginal value, highlighting the need for a high level of sorting. That sorting was difficult or impossible at the Waste Management and Lakeshore Recycling facilities.
Waste Management found high levels of contamination and lots of flexible plastic materials, which precluded automated sorting because the flexible plastics jammed equipment. Also, the quantities received weren't high enough to bring enough value to offset handling and storage costs. Given the low current recovered plastics values, Waste Management indicated it would have to charge for any special collection service for health care plastics.
Lakeshore Recycling earlier this year opened a single-stream MRF with automated sorting equipment. That meant a transition away from manual sorting, which previously allowed the company to perform detailed sorting of clinical plastics, according to the report. As of the document's writing, Lakeshore Recycling  was still trying to find a plastics reclaimer that would accept the commingled hospital plastics for sorting.
Alternative reclaimer options
Material sorted by Waste Management was sent downstream to plastics reclaimer Antek Madison, which found it cumbersome to sort the many different resins in the mix. Additionally, employees there were worried that materials were potentially infectious due to their source.
"As long as plastic values are low, we do not see a financial incentive to process this type of scrap," Antek Madison told the report's authors.
As an alternative to mechanical recycling, the authors suggested health care plastics could be acceptable feedstock for chemical recycling. As part of the project, they tested material in RES Polyflow's plastics-to-fuel process and Resinate Material Group's process for converting PETG into a substance for use in foams, coating and adhesives.
"Both trials were successful, suggesting when mechanical recycling options are not available for these health care plastics, value can still be realized through other recovery processes," the analysis concluded.