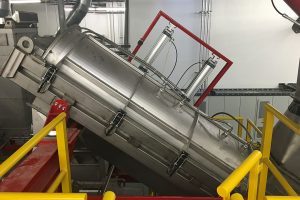 Flake-washing equipment from Italian equipment company Amut removes contaminants from flake via centrifugal force.
The company's line of Turbo Washers removes inorganic and fine pollutants from PET, HDPE and LDPE flakes with a rotating process. In a plastics processing facility's line, it's ideal for washing flakes coming from the wet grinder or rinsing material leaving a strong washing process with detergents, according to an Amut fact sheet.
"During the centrifugal process dirty water, sand, paper fibers and soil flow through the basket holes, whereas flakes are retained," according to the company.
The smallest in the series is the TW 400 and the largest is the TW 800 (pictured). The TW 800 has a 31.5-inch rotor, and each hour it can wash 13,200 pounds of PET, 8,800 pounds of HDPE and 3,300 pounds of LDPE, according to the fact sheet.
Last November, Amut uploaded a video with more information on how it works.
Photo courtesy of Amut
To receive the latest news and analysis about plastics recycling technologies, sign up now for our free monthly Plastics Recycling Update: Technology Edition e-newsletter.
More stories about technology