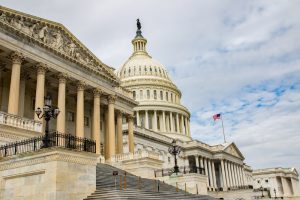 The 2018 spending bill approved by lawmakers and signed by the president last week contains good news for the U.S. EPA and its recycling-related programs: The agency avoided significant budget cuts that were proposed last year.
President Trump signed the funding bill Friday, the final chapter in a year-long process that contained ups and downs for the country's top environmental authority.
The bill funds the U.S. EPA at nearly $8.06 billion, the same as it was allotted in 2017. That's a raise from the proposal approved by the House in the fall, which would have budgeted out $7.5 billion to the agency. And it's a substantial raise over the amount Trump proposed in his initial budget, which set EPA funding at $5.7 billion, a 31 percent funding cut.
The Resource Conservation and Recovery Act (RCRA) program, which covers much of EPA's recycling-related work, received $104.9 million in the 2017 fiscal year. Trump proposed slashing the RCRA program budget to $73.1 million and eliminating its $8.8 million Waste Minimization and Recycling program altogether. Congressional lawmakers reversed that cut, and in the final bill the RCRA section was allocated $109.4 million.
Although the bill's explanatory statement for the EPA and related agencies does not specify funding levels for RCRA's specific programs, it makes mention of waste diversion.
"The Committees continue to support the Waste Minimization and Recycling program, and the Agency is encouraged to use funds from within the program to help public entities demonstrate community anaerobic digester applications to municipal solid waste streams and farm needs such as capturing excess phosphorus," the bill's explanatory statement reads.
Senate lawmakers passed their version of the spending bill last month, and legislators from both chambers met last week to reconcile differences between their proposals.
This bill covers government spending through Sept. 30, 2018. The agency will likely be in for another tumultuous budgeting process for the 2019 fiscal year, as Trump's 2019 budget proposal proposes even deeper cuts than what the administration laid out last year. Under Trump's new proposal, the agency's funding would be cut by 34 percent.
Since Trump took office, EPA employment has declined 9.1 percent to 14,056.  EPA's employment peaked about eight years ago at 17,417. Most of the reduction in EPA staffing has been from retirements and buyouts.
Photo credit: Yi-Chen Chiang/Shutterstock
More stories about legislation