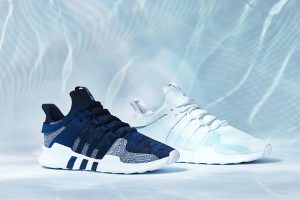 One of the world's largest footwear manufacturers sold 1 million pairs of shoes last year made partially with recovered marine plastics, and it expects to sell another 5 million this year.
Adidas CEO Kasper Rorsted told CNBC the company sold a million sneakers that contained components made out of plastics at risk of entering the oceans. The project is a partnership between Adidas and nonprofit group Parley for the Oceans.
The company now sells clothing and shoes made partially with marine plastics. Last year, it released three running shoe models with recovered marine plastics in the laces, heel webbing, heel lining and sock liners.
According to TheCurrentDaily.com, Eric Liedtke, head of global brands for Adidas, said the company is on track to sell 5 million shoes made with marine plastics this year. He was speaking at the SXSW conference in Austin, Texas. He acknowledged that 5 million is "a drop in the bucket" compared with the 450 million pairs of shoes the company makes each year, according to the website.
Liedtke also said Adidas wants all of the plastics in its products to be recovered marine plastics by 2024.
The company's 2020 goals include phasing out the use of virgin plastic by eliminating plastic bags in stores, increasing the use of recycled polyester in products and building a new supply chain for ocean plastics.
More stories about brand owners