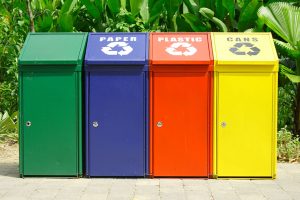 Keep America Beautiful, which runs America Recycles Day and other initiatives, is closing its Washington, D.C. office and consolidating staff in Connecticut. Two leaders from the organization's recycling arm are exiting as part of the shift.
In a statement issued to Resource Recycling, Helen Lowman, president and CEO of Keep America Beautiful (KAB), said the group would maintain its focus on recycling advocacy.
But KAB confirmed Brenda Pulley, senior vice president of recycling, and Alec Cooley, director of recycling programs, would be leaving the group at the end of March as KAB brings all remaining staff to its Stamford, Conn. office.
Pulley has been with the organization since 2010 and has been the face of the group's materials recovery advocacy efforts. Cooley has been with the group since 2009.
"[Alec and I] are both proud of the opportunity to work with KAB, its affiliates and other recycling partners," Pulley said in a separate statement to Resource Recycling. "Specifically, the research conducted to better understand consumer attitudes and behaviors around recycling, developing public space recycling best practices and advancing recycling in the workplace. These are a few of the key areas that KAB will continue to build on going forward to improve recycling."
Along with organizing America Recycles Day, which is celebrated annually on Nov. 15, Keep America Beautiful runs the Recycle-Bowl and RecycleMania competitions. Recycle-Bowl helps encourage materials recovery and waste reduction among K-12 students; RecycleMania is geared toward waste diversion on college campuses.
The group has also helped spearhead the "I Want to Be Recycled" ad campaign across the country.
In her statement on the group's consolidation, Lowman noted KAB is taking the action to move forward on several priorities, including improving organizational efficiency and strengthening engagement with donors and volunteers.
But she made clear recycling will remain as one of the group's three "core pillars."
"We expect these changes will advance Keep America Beautiful's efforts to end littering, improve recycling and beautify communities," Lowman stated. She also said KAB is looking to "strengthen our ability to measure our impact on behavior change."
The statement noted KAB expects the transition to be completed by early April.
Photo credit: ocwo/PhotoXPress
More stories about industry groups