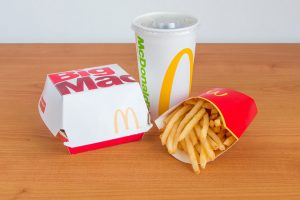 The world's largest restaurant operator will increase access to recycling at its food establishments and make packaging changes to lessen environmental impacts.
McDonald's on Jan. 16 announced a goal of providing front-of-house recycling service at all its restaurants by 2025. More than 37,000 McDonald's locations are operating in 100-plus countries, and the vast majority – more than 90 percent – are independently owned.
About 10 percent of them are currently recycling packaging, according to the company.
"McDonald's understands that recycling infrastructure, regulations and consumer behaviors vary city to city and country to country around the world, but it plans to be part of the solution and help influence powerful change," according to a press release.
The publicly traded global fast food giant also announced a 2025 goal of ensuring all of its packaging comes from "renewable, recycled, or certified sources with a preference for Forest Stewardship Council certification." The company is currently at about the 50 percent mark.
"To reach these goals, McDonald's will work with leading industry experts, local governments and environmental associations, to improve packaging and recycling practices," according to the release. "Together they will work to drive smarter packaging designs, implement new recycling programs, establish new measurement programs and educate restaurant crew and customers."
Conrad MacKerron, senior vice president of Oakland, Calif.-based advocacy group As You Sow, said his organization has been communicating with McDonald's about these issues for several years. As You Sow, which uses shareholder advocacy strategies to push corporations to reduce their environmental impacts, issued a statement congratulating McDonald's on its "industry-leading goal announced today to recycle all post-consumer packaging in all its restaurants by 2025."
Eliminating EPS
The new pledges come shortly after McDonald's agreed to eliminate its use of EPS packaging. As You Sow re-filed for 2018 a resolution urging the company to assess the environmental impact of its EPS cups and food trays. The same proposal was voted on by McDonald's shareholders in 2017 and received support from nearly one-third of shares voted, according to an As You Sow press release.
"McDonald's phased out its use for hot beverage cups in the U.S. in 2013, but still uses it in overseas markets where plastic pollution migration into waterways is highest," according to As You Sow.
Shortly after the filing of the resolution, McDonald's announced its intention to stop using EPS by the end of this year.
More stories about brand owners