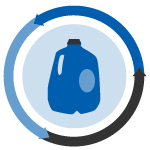 Loop Industries reverses course on buying a Montreal facility, and optical sorter companies show off their improved products.
Purchase cancelled: After doing its due diligence review, Loop Industries has decided not to buy property in Montreal from Veolia. Loop, which uses a heatless, pressureless depolymerization process on difficult-to-recycle PET streams, previously signed an agreement to buy the 150,000-square-foot site for its first manufacturing facility.
Black plastics: Tomra Sorting Recycling showed off its new optical sorter technology for separating black plastic packaging during an event in October. The Autosort Black, which is expected to become available next year, can differentiate black PE, PP, PET and polystyrene. In addition to the equipment demonstrations, the two-day event at Tomra's European headquarters in Germany included discussions about the circular economy.
PET depolymerization: Global beauty products company L'Oréal has signed a deal with Carbios, a French startup commercializing a depolymerization process using enzymes to break down PET into its components, which can then be used to make new PET. The agreement has the companies jointly founding a five-year consortium to bring the technology to market at an industrial scale, according to a press release.
Recyclable pouch: Plastics News takes a look at how three companies are collaborating in their quest to develop a recyclable pouch. Because there are very few recycling outlets that can handle multi-layer pouches made up of different resins, Nova Chemicals, Charter NEX Films and Plastic Packaging Technologies are working together to create an all-PE pouch.
Sorter testing: Optical sorter company Pellenc St has opened new equipment testing centers in the U.S. and Japan and an improved testing center at its headquarters in France. The company invested 1 million euros (nearly $1.2 million) into the testing center at the Pertuis, Provence, France headquarters, boosting testing capabilities to one ton of material. Additionally, at the new U.S. testing center, located in Fort Mill, S.C., interested parties can test the new Mistral+ 2000 sorter.
Recycled EPS product: A researcher in India has recycled foam PS into an absorbent fabric that can be used to soak up oil after spills. Telangana Today reports Chandra Shekar Sharma at the Indian Institute of Technology Hyderabad used orange peel as a solvent in the recycling process. He founded a startup company to commercially recycle EPS, often referred to as thermocol in India, into the absorbent fabrics.
Reclaimer award: Intersoh has won an award for its plastics recycling research-and-development facility in Slovenia. The company, part of European waste management giant Alba Group, won the Slovenian environmental prize for its facility in Maribor, Slovenia, where it does sorting, grinding, washing, extruding and compounding to meet exacting specifications.
Ocean plastics product: A company in Spain is working with fisherman to collect ocean plastics for recycling into designer sunglasses, according to The Independent. Fishermen off the coast of Catalonia are bring back about a metric ton of plastic every three days. Barcelona-based Sea2see removes what it needs to make its sunglasses and sends the rest, including nylon fishing nets, elsewhere for recycling.
Irradiated PET: Exposing recovered PET to radiation, grinding it to a powder and mixing it into Portland cement and fly ash can significantly strengthen the resulting concrete, research at the Massachusetts Institute of Technology shows. During testing, scientists exposed PET flakes to gamma rays, which made the plastic stronger, stiffer and tougher but left no residual radiation. The final concrete product contained about 1.5 percent PET.
End user investments: A packaging producer will invest millions of dollar into equipment allowing it to consume more recycled PET and PS. Cascades will install an RPET film manufacturing line with a built-in decontamination unit, as well as new extrusion and recycling lines processing PS.
To receive the latest news and analysis about plastics recycling technologies, sign up now for our free monthly Plastics Recycling Update: Technology Edition e-newsletter.