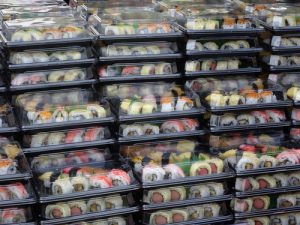 In Europe, thermoform packaging is using more and more RPET content, but impediments remain to efficient recycling of the thermoforms themselves. A workshop recently discussed the issues.
Trade group Petcore Europe reported on the results of a September workshop that provided updates to stakeholders on efforts to boost thermoform recycling. The event was held by PetCore's Thermoforms Working Group, which was started in 2015 to increase recycling of the increasingly popular packaging format.
More and more post-consumer recovered PET is being recycled into thermoforms in Europe, according to the working group's presentation. Specifically, in 2016, 490,000 metric tons of RPET was recycled into new thermoforms, surpassing the market for RPET bottles or fibers. Petcore estimated the average recycled content for PET thermoforms is now more than 45 percent.
Processing challenges
Reclaimers on both sides of the Atlantic note continuing challenges with recycling thermoforms. A lot of it comes down to design: labels and glues. Those were the two main challenges identified by the Petcore working group. Labels are often too large and their glues can't be easily removed, according to the summary, and soaker pads that are glued into the thermoforms are difficult to remove in recycling facilities.
The group also noted a challenge identified in a U.K. project, previously covered by Plastics Recycling Update: Washing and drying cycles break thermoform PET into more fines than is the case with bottle PET.
According to the Petcore summary, a test in France showed that recycling of monolayer PET trays together with bottles can work under certain conditions. The separation requires optical sorters that can distinguish between mono- and multi-layer packaging.
Another approach is to separate PET trays, and then further sort the monolayer thermoforms from the multi-layer ones.
"Dedicated recycling lines for PET thermoforms are under development," according to the meeting summary.
End-market opportunities
In terms of end markets, Petcore pointed to new thermoforms. It noted that several studies have shown that washing, extrusion and solid stating will result in a good-quality material for use in colored applications, including grocery store food trays and agricultural trays.
The group also suggested incorporating thermoform PET into textiles, as well as compounding it for use in automotive applications. In terms of chemical recycling for difficult-to-recycle PET streams – thermoforms made of PET/PE or multilayer PET/PE/EVOH with greater oxygen-barrier properties – Petcore said there's promise.
"Several startup companies are in the stage of scaling up their technologies and tests have shown that recycling of PET/PE and PET multilayer trays will work," according to the summary. "However, the important question is if industry will be able to develop these technologies to an industrial and economically feasible scale."
One company that has signed a deal to use its depolymerization process to recover PET from multilayer packaging is Loop Industries. The Montreal-area company recently agreed to purchased a site to scale up its technology (see related Plastics Recycling Update story).
To receive the latest news and analysis about plastics recycling technologies, sign up now for our free monthly Plastics Recycling Update: Technology Edition e-newsletter.
 More stories about technology