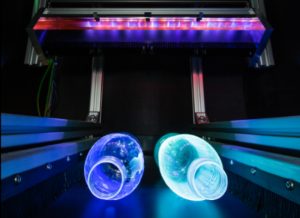 This story has been updated.
Inertia continues to build toward the use of tracers and digital watermarks to improve optical sortation of post-consumer packaging. Procter & Gamble is leading an effort to keep everybody on the same page and avoid market fragmentation.
Gian De Belder, principal scientist for packaging research and development at Procter & Gamble (P&G), recently provided Plastics Recycling Update with the latest on the progress of the Pioneer Project "Holy Grail."
The project counts major brand owners, hauling and recycling companies, plastic and packaging producers, equipment suppliers, consultants and industry associations as members. They're working under the umbrella of the Ellen MacArthur Foundation's New Plastics Economy initiative.
Tracers and digital watermarks are substances and markings on packaging that can be recognized by sortation equipment but aren't visible to the eyes of consumers. They could be used, for instance, to allow optical sorters to recognize the difference between a bottle that held soda and one that held chemical cleaners, even if the containers are made of the same resin. That's particularly important in Europe, where regulators allow a maximum of 5 percent non-food plastics in PET bales.
"At P&G, we believe there is a need to bring in an additional dimension (outside the classical current optical sorters), which can be realized by integration of tracers and/or watermarks into the packaging," De Belder said. "P&G decided to lead these discussions, as we've seen a growing concern of potential market fragmentation and we prefer to have first a cross value chain industry alignment on the 'barcode of recycling' to avoid fragmentation and to speed up the market implementation."
De Belder added, "This work nicely links to our recent announcement where we have committed to achieve zero manufacturing waste to landfill by 2020; however, our longer-term environmental vision is to have zero consumer and manufacturing waste go to landfills, as well as using 100 percent renewable or recycled materials for all products and packaging.
In April, P&G organized a workshop in Brussels to get updates on the latest developments in tracer and watermark sorting efforts, as well as to debate if and how tracer and watermark sorting should be introduced and standardized in the industry. Following that meeting, De Belder presented the learnings at a May New Plastics Economy meeting in New York City.
According to De Belder, tracers and digital watermarks are the two major technology approaches that are being studied as a way of increasing recycling rates and improving recovered materials quality.
But much work remains to be done within those categories. Stakeholders need to continue exploring using tracer and watermarks to distinguish food from non-food packaging, recyclable from compostable plastics, and monolayer from multi-layer materials, he said. In addition, they need to look at using the technologies to help ID full-body-sleeved PET bottles, as well as how they work with new materials, allowing fast market adoption by brand owners.
In addition to enabling positive sorting of targeted plastics, tracers and digital watermarks have the ability to allow optical sorters to remove contaminants such as compostable plastics or those with additives that cause yellowing in recycled pellets.
Demonstration runs with digital watermarks are ongoing by the team. The watermarks are being integrated into bottle and thermoforming molds, versus the classic approach of integrating the codes into the label artwork, De Belder.
As a first step in standardization and industry implementation, the Holy Grail team will prepare a draft white paper, De Belder said. This will be the basis for further consultation with other New Plastic Economy members, industry associations and government bodies.
The following organizations are participating in the project: Danone, L'Oréal, PepsiCo, Henkel, Suez Environnement, Veolia, TerraCycle, Waste and Resources Action Programme (WRAP), Borealis, Novamont, RPC Group, Constantia Flexibles, Mondi, Tomra Sorting Solutions, Think Beyond Plastic, NexTek, European Association of Plastics Recycling and Recovery Organizations (EPRO) and HTP.
This story has been updated with new information from Procter & Gamble. 
More stories about technology