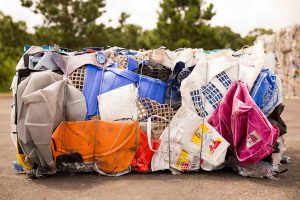 In bulky rigid plastics recycling, the materials recovery facility is at the center of the equation. But downstream developments have also been key to monetizing a material that was long seen as a contaminant.
"These materials, for years, were going to the landfill because of sheer size," Stephanie Baker, director of market development for KW Plastics, said in an Aug. 1 webinar on bulky rigids recycling. "And we've been able to put a value on this material and find end markets."
The webinar was hosted by the Association of Plastic Recyclers (APR), which has also compiled resources to help recycling programs considering bulky rigids collection.
Monetizing a contaminant
Five or six years ago, few materials recovery facilities (MRFs) were accepting bulky rigid materials, said Liz Bedard, APR's rigid plastics recycling director. MRFs were finding the material was being collected, but they were removing it from the recyclables stream as contamination.
In other words, collection and sortation were already taking place, but a crucial missing link remained.
"We can collect, we can process, but if we're not able to send this material to market, we haven't successfully recycled," Bedard said.
The good news, APR found, is that there are indeed markets, both domestic and international. One large domestic buyer is Troy, Ala.-based KW Plastics, which has processing lines capable of handling large bulky items.
KW Plastics typically buys 3 to 3.5 million pounds per month of bulky rigid plastics, Baker explained. Material is purchased from a variety of sources, including more than three dozen MRF sellers around the country. She noted the facilities are all different sizes.
From KW's perspective, the largest challenge in processing bulky rigids comes down to quality: It's important for MRFs to segregate the resins to avoid contamination. The company mostly purchases HDPE-only bales, with a smaller quantity of PP-only bales.
Numerous end-markets
KW Plastics produces a post-consumer resin (PCR) pellet, and the end product for recycled bulky rigids is an injection-grade material, Baker said. "It takes bulky rigids to make bulky rigids," she said.
KW does not sort the items by color, Baker said, because it's not cost-efficient and unnecessary for the downstream market. KW sells bulky rigids-derived PCR pellets to manufacturers of construction parts, five-gallon buckets, pallets and wheels.
"Those are all proven applications that we are selling to consistently," she said.
The company is also looking into other mainstream markets for its material that are still developing, such as roll-out carts, totes, beverage crates and more. "These are very high quality products that are being made from this bulky rigids feedstock," she said.
Besides bulky rigids, KW processes all other rigid HDPE materials as well as PP. The bulky rigid PCR, Baker said, is "definitely not as large an end-market as perhaps the blow-molding grade, but it definitely has a lot of opportunity."
Curbside convenience
With collection, sortation and viable markets all achievable, more and more municipal recycling programs have begun adopting collection of bulky rigids, often integrating them into existing curbside programs.
APR annually surveys the largest city in all 50 states to gather information and monitor trends. In 2015, five surveyed cities reported collecting bulky rigids through a curbside program. Three more had joined by 2016.
"We just see that growing all the time," Bedard said.
In New York City, bulky rigid plastics can be placed at the curb without advance notice on any regular recycling collection day. Since July 2013, the program has collected all types of bulky plastic items.
"We make it easy to recycle, we just say all rigid plastics," said Samantha MacBride, director of research at the New York Department of Sanitation (DSNY). "The sky's the limit."
Accepting such a wide array of items creates a few challenges. Multi-material items such as kids' car seats can be difficult to process alongside other rigids. To combat machinery damage or contamination with other streams, Sims Municipal Recycling's Sunset Park MRF in Brooklyn has workers pull the bulky items before they continue into the sortation line.
"Our MRF understands bale specs for bulky rigids," MacBride said. "They are very good at finding markets."
More stories about rigid plastics