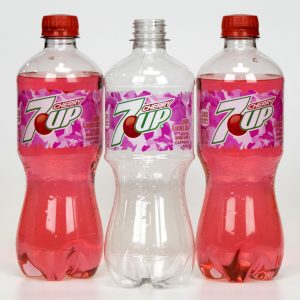 An international packaging producer has won an award for directly printing onto containers, eliminating the need for separate labels, liners and adhesives.
The recycling-friendly technology from Plastipak Packaging recently won a silver DuPont Award for Packaging Innovation, according to a press release. Plastipak's PET and HDPE recycling affiliate, Dundee, Mich.-based Clean Tech, recycles roughly 250 million pounds per year of post-consumer material, making it one of the largest reclaimers in North America.
Plymouth, Mich.-headquartered Plastipak Packaging calls its technique Direct Object Printing (DOP). It involves applying specially developed inks to the container with an ink-jet printer, after which the inks are cured using low-energy LED lights.
The approach eliminates labels and adhesives that could complicate recycling, and it introduces recycling-friendly inks. In the past, problematic inks would bleed off labels and leave residual colors in bottle scrap.
The direct-printing technique also allows beverage companies to produce a variety of different label designs at reduced cost.
Plastipak Packaging operates more than 45 sites in the U.S., South America and Europe.
Virginia-based nonprofit group GreenBlue also won a silver-level DuPont award for its How2Recycle label, according to a DuPont press release. The label, which more and more brands are adopting, provides clear instructions to consumers on whether and how they should recycle their packaging.
More stories about technology