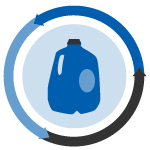 New PET packaging presents challenges for reclaimers, and partners find a way to divert hospitals' PP wrap from landfill.
Portable plastics-to-diesel tech: A scientist and a boat captain have teamed up to deploy a portable plastics-to-fuel system, according to Phys.org. The former scientist at BASF developed a small-footprint plastics-to-diesel system, and he plans to work with a boat captain of 40 years to feed the system with plastic marine debris. As described by Phys.org, the system uses a "metallocene catalyst deposited on a porous support material that, coupled with a controlled pyrolysis reaction, yields diesel fuels directly without further refining."
PET recycling challenges: Increases in the use of PET thermoforms and opaque PET milk bottles are presenting challenges to the European PET recycling industry. Plastics Recycling Update Executive Editor Jerry Powell, who attended the Plastics Recycling Show Europe in late March in Amsterdam, writes about the end-of-life problems presented by those packaging shifts.
Health care plastics partnership: The Healthcare Plastics Recycling Council writes about how a partnership between Kaiser Permanente and Goodwill is diverting 760 pounds of PP wrap per week from landfill. Goodwill Southern California is collecting the blue wrap, a nonwoven PP material, from 13 Los Angeles-area Kaiser health facilities. Goodwill staff are manually sorting and removing paper tape, a key processing step, before the plastic is sold to a reclaimer to make pellets.
Toxics in plastics: A study showed that flame retardants used in electronics often end up in children's toys after the plastics are recycled, according to two organizations. Advocacy groups Ipen and Arnika performed the international study, which discovered that toxic substances ended up in Rubik's Cubes.
Deal landed: A startup commercializing a heatless, pressureless PET depolymerization technology signed a deal with PepsiCo to run a mail-in recycling program. Loop Industries' technology can break down mixed and contaminated streams of PET into the plastic's component monomers, which can then be used to make new PET.