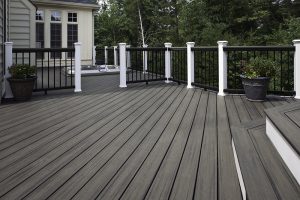 Wood-alternative manufacturer Trex closed 2016 with record sales and earnings, but the company doesn't plan any significant changes to its downsized recycled polyethylene pellet business.
Overall, Winchester, Va.-based Trex posted $480 million in net sales in 2016, a 9 percent increase over 2015, company officials announced in a Feb. 21 conference call. The publicly traded company saw 13 percent sales growth from 2014 to 2015.
Trex uses recycled plastics and reclaimed wood to make composite decking products and other outdoor home items.
Net income at the company jumped by a larger percentage than in previous years, a 41 percent spike from $48 million in 2015 to $68 million in 2016.
Bryan Fairbanks, chief financial officer, attributed the positive growth to "increasing demand for our high-performance decking and railing products," as well as "substantial reductions in manufacturing costs."
No increase in pellet sales
Trex, the largest consumer of recovered PE film in the country, began selling LLDPE pellets in 2015 as a way to monetize the excess raw material from its own recovered PE purchases. In previous updates to investors, company officials predicted the pellet sales could bring in $50 million to $80 million within four years of beginning sales.
But a year later, with low oil prices driving down demand and prices for recovered PE, Trex CEO James Cline announced the company was reducing the amount of recyclable PE it buys, lessening the excess available for resale.
In last week's update to investors, Cline said there is "no increase anticipated of any significance related to our pellet business" and did not speculate about what effect rising PE prices would have. He said the company's record sales "more than offset our planned reduction" in recycled LLDPE sales.
Still, Trex's pellets recently received attention from the International Code Council, which certified that the company's "Spartan" and "Cardinal" LLDPE pellet lines are both made from 100 percent post-consumer content.
"Companies can be assured that using Trex pellets can help meet their recycled content requirements and sustainability goals, while reducing their reliance on virgin and off-spec resin," Dave Heglas, the company's senior director of material resources, stated in a press release.
During the investor update, Cline said the certification "is beginning to generate a modest level of interest with bag manufacturers both here and overseas," but he added that "it remains to be seen how impactful that will be."