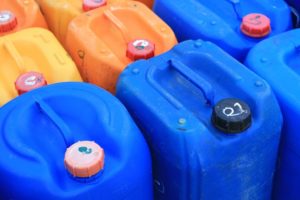 An innovative technique for recycling polyethylene pesticide and herbicide containers has moved from the lab to the plant.
The European project Life Extruclean found a way to more quickly decontaminate plastics that have been in contact with solvents and other poisons. The approach involves using supercritical carbon dioxide during the extrusion phase to remove contaminants. That allows reclaimers to skip two of the three required washing and drying steps when recycling the plastics.
The benefits of skipping those steps is the generation of less wastewater and usage of less energy and cleaning agents. Additionally, because the plastics aren't going through as many aggressive washing and drying stages, they emerge with properties that allow them to be recycled into higher-value applications, such as new containers.
In July, Plastics Recycling Update summarized results of the research and published a white paper from the project's coordinators, the Spain-based Plastics and Related Materials Research Association (Aimplas).
Now, Aimplas reports stakeholders have brought the technology to an industrial scale by implementing a recycling line. The equipment has been installed at facilities owned by plastics reclaimer Acteco, which has locations across Spain. New containers will be molded from the recovered plastics by Enplast, a company based in Madrid.
"The new packages will be validated for the transport of hazardous substances and miscellaneous," according to a project update. "Other aspects like the economic viability and the reduction of the environmental impact with the production and use of the new packages will also be defined in the last stage."
To give them time to optimize the new line, an extension of the European Union-funded project has been granted. Originally slated to end on Dec. 31, 2016, the project has been extended through June 30, 2017.