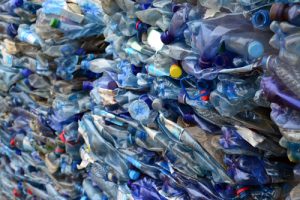 Thermoforms are a growing factor in the PET recycling game, and the National Association for PET Container Resources wants to continue that trend.
Kate Eagles, NAPCOR program director, said the group's goal is "to make recycling PET thermoforms as easy as recycling PET bottles, without disrupting bottle recycling infrastructure."
In a webinar this week, Eagles touched on the state of the PET market, potential for growth and efforts to combat declining bale quality. She also delved into the opportunities and challenges associated with PET thermoforms. The webinar was organized by the Pennsylvania Recycling Markets Center and the National Recycling Coalition.
Room for growth
NAPCOR's goal is to increase the overall supply of collected PET while reducing the contamination of PET bales. Eagles noted that 2016 was a challenging year for the recycling industry.
"So now, more than ever, we focus on market support, trying to remove obstacles to successful recycling," she said.
PET recycling end markets are strong, Eagles said, with "quite significant" growth from 2004 through 2015. But there is plenty of room for more expansion, and the figures show it.
In their most recent report on PET recycling activity, NAPCOR and the Association of Plastic Recyclers (APR) noted that reclaimers processed roughly 1.5 billion pounds of PET bottles out of a collected 1.7 billion pounds in 2015 (thermoforms were not included in the study's figures). That was out of a total of nearly 6 billion pounds of PET bottles sold into the U.S. market that year.
As of December 2015, the 28 PET reclamation plants operating nationwide had a combined capacity to process about 2.5 billion pounds of PET annually. That means "we have the capacity to process more material than we are typically collecting," Eagles said, adding that the domestic PET processing infrastructure is "really quite robust."
At the same time, while PET material collection is hovering right around 30 to 31 percent, the total amount of PET actually recycled has dropped. Out of all PET generated by consumers, the amount recovered and sold dropped from a 2013 high of 22.6 percent down to about 21.6 percent in 2015. There are a few reasons for that trend, but declining bale quality is a big one.
Quality control
PET bale quality has declined due to increased single-stream collection, which increases overall volume but also increases contamination, Eagles said. Also contributing to the problem is an increase in packaging and labels that are not as recyclable as the PET bottle itself.
Lightweighting has also hurt the economics of PET recycling. Although it's positive from a sustainability standpoint because less resin is used, it means the thinner containers can follow fibers during sorting. That reduces the volume of material available to make it into PET bales.
To begin addressing these issues, NAPCOR and APR came up with a grading system to rate bales based on the percentage of PET included. They also worked up an audit tool to rate a reclaimer's output based on a representative sample.
"Let's at least get a consistent way of talking about bale quality," Eagles said.
Thermoform collection grows
Although NAPCOR is looking into several non-traditional PET recycling sources, including non-clear bottles, PET thermoforms will likely play a lead role in achieving supply growth in the future.
NAPCOR has been pushing measures to increase PET thermoform recovery since about 2007, when it opened up its membership to PET thermoform manufacturers. The percentage of PET thermoforms found in curbside and drop-off PET bales has risen from about 1.5 percent in 2009 to more than 6 percent in 2014. Figures for 2015 are not yet available, but Eagles predicted thermoforms could jump to more than 8 percent in bales.
PET bottles and thermoforms together can present problems. PET thermoforms can get caught up with other objects when they're sorted into bales. And once recycling programs begin to accept PET thermoforms, they often see more thermoforms made of lookalike resins.
Although the percentage of PET thermoforms in bales continues to increase, Eagles said she doesn't know of any reclaimers who are taking purely PET thermoform bales.
Last year, a study by the Sustainable Packaging Coalition found that PET thermoforms were accepted in recycling programs available to 60 percent of U.S. residents. That means PET thermoforms, which include common items such as clamshells, can carry unqualified "recyclable" label, per the Federal Trade Commission's Green Guides.