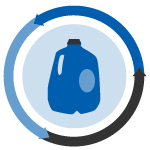 A group provides an update on its research into the recycling of multi-material laminated packaging, and post-consumer plastics are being used in a new insulation product.
Boosting PLA recycling: Often marketed as compostable or biodegradable, the bio-derived resin PLA currently has a low recycling rate. But efforts are afoot to test sortation and downstream markets for recovered PLA. A recent webinar featured representatives of a major PLA maker and a secondary MRF operator discussed efforts to boost its recycling.
Multi-layer flexible packaging: A group working to develop solutions for the recycling of multi-material laminated packaging has released an update on its efforts. The Multi-Material Laminates Project, part of the industry group Pac Next, says it will explore pilot program opportunities in 2017 for the recycling of pouches, bags, wrappers and other types of multi-layer flexible packaging.
Compatibilizer technology: The Dow Chemical Co. has received a 2016 Sustainability Award from the Business Intelligence Group for its Retain product. The additive compatibilizes EVOH barrier layers with PE layers to allow the packaging to be recycled via traditional PE retail collection streams. In July, Plastics Recycling Update wrote about the polymer modifier and what it means for recycling.
Recovering hospital plastics: A Chicago-area project exploring health care plastics recycling found that it was difficult to sort a contaminated mix of plastics of varying resins.
Getting the stink out: Envision Plastics has shipped more than 5 million pounds of its Deodorized Resin, a post-consumer HDPE cleaned through a proprietary process, Plastics News reports. The plastic is suitable for scent-sensitive applications.
New recycled-content product: An insulation innovation incorporates 85 percent recycled materials from recycled carpet, cotton and PET fibers, the Carpet America Recovery Effort (CARE) and CarpetCycle recyclers announced. The Quiet-Tech insulation, which contains post-consumer carpet sourced from California, offers sound absorption between wall-separated workspaces.

News
,
Technology Edition
,
Technology roundup
Tagged
awards
,
Europe
,
EVOH
,
HDPE
,
industry groups
,
packaging
,
PET
,
PLA
,
sortation
,
technology