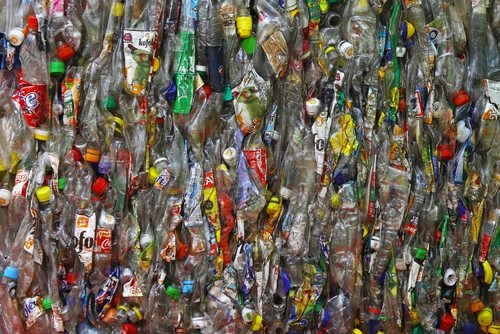 The plastics recycling sector has recently felt heavy pressure amid price swings in the virgin market. But a leader at one reclaimer says that value conversation may sometimes overshadow another significant issue: getting ahold of enough quality material.
"The biggest dilemma has always been supply," said Steve Navedo, vice president of sales at Richmond, Ind.-based Perpetual Recycling Solutions. "That's something we've been talking about for the last 15 to 20 years."
Difficulty in procurement of recovered plastics was one of a handful of challenges laid out by PET experts at the closing session of the Paper & Plastics Recycling Conference in Chicago last week. In addition to Navedo, the discussion included Tison Keel of market analysis firm IHS Chemical and Ryan Pawlinski from rPET manufacturer Phoenix Technologies International.
The question of pricing got its fair share of attention, of course. And Keel, who is a PET markets specialist, grabbed the ear of the audience when he predicted it will be five years before the price of crude oil climbs back to the $70 to $80 per barrel range – he said that's the level crude needs to be at for rPET to become competitive with virgin.
"The oversupply of virgin production is keeping the price down," he added.
But for the reclaimer representatives on stage, material quality emerged as the top concern.
Navedo said Perpetual, which consumes around 160 million pounds of recycled plastic each year, continues to see incoming bales with high levels of contamination. And he said the recycling industry as a whole should devote more time and resources to resident education so that recovered plastic is cleaner from the beginning of the process.
"I think we've sold the consumer short," he said. "We've tried to dumb down recycling, and we think if we ask the consumer to do something then we're putting them out. We need to stand up for ourselves as an industry."
An unexpected visitor
Pawlinski also touched on quality issues that are affecting incoming bales. One memorable anecdote: Phoenix Technologies workers once found an entire mannequin inside a bale that supposedly contained sorted PET. The mannequin now sits in a break room at the company's facility in Bowling Green, Ohio.
Phoenix, which previously focused solely on production of recycled PET pellets, has recently added a $16 million processing plant next to its existing operation. The new line is focused on cleaning and sorting plastic supplied by materials recovery facilities (MRFs).
That's helped the company in terms of economics, Pawlinski said, but it has also increased the need for quality-control conversations with suppliers.
"We're moving back in the supply chain," Pawlinski said, noting that he has personally visited 68 MRFs in the last year to help ensure both sides understand the material needs of the other. He said the new processing operation is on pace to consume 107 million pounds of recovered PET annually.
The speakers also noted a number of opportunities for rPET sales growth are presenting themselves as the plastics packaging market continues to evolve. The thermoform segment was one area mentioned on several occasions, with Keel noting price sensitivities in that arena are not as pronounced as they are when it comes to bottles. "The thermoform guys are still looking to really increase the amount of rPET they're using," he said.
But that demand could come with some familiar headaches for plastics recycling operations.
"The sheet and film industry is growing as a consumer," said Navedo. "That's part of the growing acceptance of PET thermoforms. But there's also more complications in thermoform recycling. The potential for contamination is higher with different resins, labels and glues."