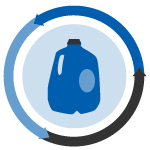 The Ellen MacArthur Foundation has organized a major plastics circular economy effort, and Dr Pepper Snapple shareholders continue to resist recycled-content goals.
Circular economy effort: The Ellen MacArthur Foundation has organized a three-year effort aimed at encouraging a circular economy for plastics. The New Plastics Economy initiative, which counts major companies as members, builds on the January release of a report from the foundation on the topic.
Ocean plastics: The Ocean Conservancy announced its 2015 International Coastal Cleanup removed more than 18 million pounds of debris, include substantial amounts of plastic. The results, delivered at the United Nations Environmental Assembly meeting in Nairobi, Kenya, showed the following items were most commonly removed from marine environments: cigarette butts, plastic beverage containers, food wrappers, plastic bottle caps and plastic straws.
Edible six-pack rings: A Florida brewery is working to replace plastic six-pack rings with biodegradable – even edible – products made from byproducts of the brewing process, including wheat and barley. Discover Magazine reports Saltwater Brewery developed a test batch of 500 rings in April and is now working to scale up production.
Recycling goals rejected: Dr Pepper Snapple shareholders rejected a proposal backed by advocacy group As You Sow to implement aggressive recycling-rate and recycled-content goals, but a larger percentage of shareholders supported the environmental proposal than in previous years. As You Sow reports 38 percent of shares supported the proposal, more than in 2015.