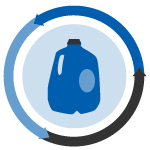 Spanish researchers develop special washing and extrusion methods to remove odors when recycling EPS fish boxes, and Keurig says it is aiming to produce recyclable K-Cup coffee capsules.
PLA wine bottle: Plastics reclaimers may soon encounter PLA wine bottles entering their facilities. A Spanish company has successfullycompleted development of a 750 milliliter PLA wine bottle that resembles a traditional glass bottle, according to greenerpackage.com. The 50 gram bottle, which includes an inner layer of silicon oxide to improve oxygen-barrier properties, was designed by AIMPLAS, the Plastics Technology Center, on behalf of Bodega Matarromera.
Removing odors: Spanish researchers have successfully recycled EPS fish boxes into building insulation. The process also removes the nasty odors that have accompanied their recycling in the past. AIMPLAS reports the project used pre-treatment, intensive washing and extrusion with supercritical fluids to remove the odors.
Conference put on hold: European Plastics Converters (EuPC) has postponed a food-contact plastics seminar that was originally set for April 20 and 21 in Brussels. Because of the recent terrorist events in the Belgian capital, the Food Contact Plastics 2016 seminar will be pushed back to the end of the year, the group announced.
Coffee pod recycling: Keurig Green Mountain will change the way it makes PP coffee pods to improve their recyclability, a company official said. Plastics Recycling Update reported on Keurig's move and the results of a test sending single-use pods through three MRFs en route to plastics reclaimer KW Plastics.
Health-care plastics: A project from the Healthcare Plastics Recycling Council (HPRC) aims to collect 100 tons of PP and PE from Chicago-area hospitals for recycling. The goal of the project, featured recently in Plastics Recycling Update, is to make the business case for recycling health-care plastics.
Small-scale processing: A plastics recycling line in every home? That's the goal of a Dutch designer and DIY guru who has engineered a system that allows people across the planet to use open-source plans and build simple machinery to process end-of-life plastics. They can then use the resin to craft new products.
Tire recycling: A Western Australian company is using what it calls a "Destructive Distillation" process to break off-the-road tires down into steel, carbon and diesel. The process used by Perth-based Tytec Recycling and developed by Green Distillation Technologies Corp. uses a continuous heating process that employs less heat and pressure in its reactors than traditional pyrolysis reactors, according to a press release.