ITAD companies often seek to site facilities near their clients to reduce costs and environmental impacts of collecting used electronics. With its new Ohio plant, CNE Direct also considered downstream movement.
"We needed a location that would optimize the logistics and the carbon footprint spend, not just on the way in but on the way out," said Omur Bagci, CEO of CNE Direct. 
The Boston-based IT asset management and disposition company recently closed a 50,000-square-foot facility in Peabody, Mass., near Salem, and opened a 100,000-square-foot plant in Groveport, Ohio, near Columbus. The Ohio facility started processing electronics in January, and the last operations in Peabody ended by March. 
A company majority owned by its founder, Paul Knight, CNE Direct also has processing facilities in Memphis, Tenn.; Hoofddorp, Netherlands; and Hong Kong. 
In an interview with E-Scrap News, Bagci, who assumed the role of CEO in December, said the Columbus-area facility is double the space of Peabody but uses more automation, tripling the throughput capabilities (he declined to state the investment cost of the Ohio facility).
The plant, which is under a long-term lease, has about 120 employees, he said. 
Reduced GHG impact
Omur noted that processors tend to open locations closer to the source of used electronics through a hub-and-spoke model. CNE Direct recently had a call with a customer – a computer chip manufacturer – during which the customer emphasized the importance of CNE Direct having a nearby location, he said.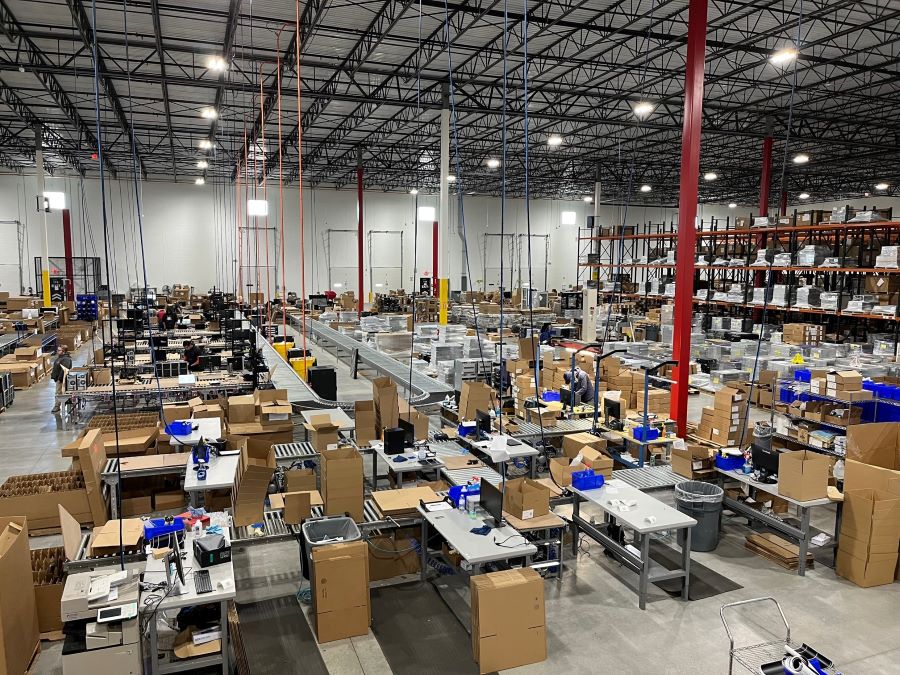 But when CNE Direct looked to build out a new site to optimize the company's footprint, the company also considered the efficiency of moving secondary electronics to market.
He noted that 95% or more of CNE Direct's incoming electronics still have usable life and are resold. Data center devices, which drive the company's business, are typically resold to end user clients, integrated partners and electronics manufacturers, Bagci said. 
As a result, CNE Direct looked toward an "end-of-runway" service, meaning a facility close to an airport hub, such as in Columbus, Ohio. The location reduces the costs and carbon footprint associated with shipping devices on aircraft, which would fly regardless of whether CNE Direct's products are on-board, he said. 
"Instead of running hub-and-spoke, we're basically running point-to-point," he said.  
The strategy makes sense when processing material with high intrinsic value, he noted. If CNE Direct were recycling a greater percentage of incoming devices, then it may be more important to be close to the generation source, he acknowledged.
More stories about processors