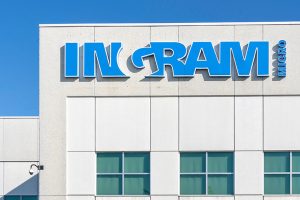 Technology distributor Ingram Micro has established itself in asset disposition in recent years. Now, it is rolling out a program to grow by leveraging its subcontractor companies.
Ingram Micro, an international company with roughly $50 billion in annual revenue, works primarily in the hardware distribution business. It buys devices from OEMs and provides them to its "value-added reseller" clients, who sell them to the end users.
The company moved into the ITAD sector with its 2013 acquisition of reverse logistics firm CloudBlue. Since then, the company has quickly expanded its ITAD presence in U.S. and international markets. Last year, the company estimated that it processed more than 26,000 short tons of devices.
Ingram's interest in the ITAD sector was natural, given the volume of product the company handles, explained Todd Zegers, vice president of ITAD, commerce and lifecycle services at Ingram Micro.
"You think about the number of units Ingram Micro distributes forward, if you started sizing up what your market size is for the ITAD business or reverse logistics business within Ingram Micro, it's pretty significant," Zegers said in an interview.
Now, the company is expanding ITAD services in a different way, by sharing its capabilities with value-added resellers. The company works with 200,000 resellers worldwide, and Zegers said the move will grow the company's ITAD reach internationally.
"We know that, in the ITAD space, if you want to really gain market share you've got to have a true global presence when you want to play in the enterprise space, because every big customer has facilities around the world," Zegers said.
Model evolution
Traditionally, the company has been a direct-to-enterprise organization, Zegers explained, with a team of salespeople marketing the company's ITAD services to corporate customers. That was the core business model of CloudBlue.
"We quickly realized that for us to gain scale at pace, we really needed to leverage the (value-added reseller) community and their existing relationships with customers," Zegers said. Those companies are already selling, installing and servicing the hardware for clients. But many of them didn't provide ITAD services, sending end-of-life devices to other firms instead.
Ingram saw an opportunity, which fit with its trend toward leveraging existing business infrastructure to increase its services – Zegers noted than 80% of the company's growth is coming from its value-added reseller partners, compared with its direct business.
Under the new model, Ingram Micro will come in and install its proprietary BlueIQ software program, ensuring partner companies process retired assets to Ingram's standards. They are then remarketed by that partner company through Ingram's platform, which has a large customer base.
"What we're really creating is kind of an end-to-end ITAD platform," Zegers said. "Now, we can give our partners a system where they can continue to manage their customers, charge their customers whatever fee they want, but use our systems for both processing as well as reselling the goods … and now they are able to compete with any other ITAD out there in this space, but they already own the customer."
It might take away from Ingram getting the ITAD business direct, Zegers acknowledged, but the company doesn't have to add fixed costs to offer those services.
Cleveland-headquartered IT logistics firm MCPc was the first partner company to roll out the new service, doing so in March, and a second company in Spain has since introduced it. The program has seen positive early results – clients of those companies, when offered the option to have the same vendor handle ITAD services, have chosen to do so, Zegers said. The customers prefer that option, as it consolidates service into a single vendor.
How it works
The partner company uses Ingram Micro's software and pays a fee for every device that moves through the system, as well as a marketplace fee for the devices that are being sold. That selling fee is calculated to be less than the sum Ingram determines the vendor will gain from selling the device through the Ingram marketplace versus selling it independently.
There are a couple partnership levels. Beyond simply utilizing Ingram's software and market access, companies can also become approved to send or receive overflow devices to and from nearby Ingram Micro facilities.
The spectrum of processing partners could be pretty broad, Zegers said, including value-added resellers such as retailers or other companies working on the distribution side of things; e-scrap and ITAD firms, particularly those in regions where Ingram doesn't anticipate starting up its own facilities; and contract manufacturers who might have a small ITAD presence or reverse logistics system.
Photo credit: JHVEPhoto/Shutterstock

More stories about processors