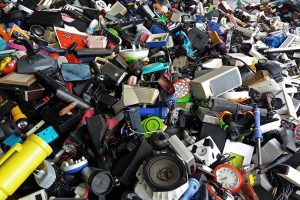 An industry group has identified six advanced recycling projects that target plastics from electronics. One of the tech developers is a prominent North American e-scrap processor.
Closed Loop Partners last month released a market-landscape report detailing the fast-evolving "chemical recycling" sector. Chemical recycling encompasses processing systems that use heat, pressure, solvents and other methodologies to convert recovered plastics into oils, fuels and feedstocks for new plastics and other petrochemical products.
Chemical recycling has been framed as complementary to more traditional "mechanical recycling" systems for plastics. Some of the emerging companies have grabbed headlines and support from virgin plastics makers, with stakeholders hoping concepts such as depolymerization can open doors to markets for end-of-life plastics that currently go to disposal.
In its analysis, Closed Loop Partners, which is backed by a number of large corporations and is focused on bringing investment capital to recycling, detailed dozens of companies and institutions that have chemical recycling ventures in the works, classifying them by methodology and level of maturity (ranging from "concept" to "growth").
Among the ventures whose processes and business models are summarized in the report (see appendix for company blurbs) are six that are specifically targeting e-plastics.
The emergence of such technologies could be important for e-scrap processors. Companies have struggled to find downstream options for e-plastics in the wake of Asian market shake-ups.
GEEP pilot effort underway
One of the chemical recycling hopefuls in the e-plastics realm will be familiar to many e-scrap insiders.
Global Electric Electronic Processing (GEEP) is an Ontario-based processor that has handled major volumes of electronics for years. According to the Closed Loop report, the company has a pilot project underway at its Barrie, Ontario headquarters that is converting mixed e-plastic materials to jet fuel.
The GEEP project is currently handling 6,000 tons per year, and the company has plans to expand the effort to its Edmonton, Alberta facility.
Meanwhile, the report indicates the most developed chemical recycling venture focused on e-plastics is Vancouver, British Columbia-based Klean Industries. The company is sourcing a variety of plastic types, including those from e-scrap, and is using pyrolysis and gasification systems to produce fuel.
Closed Loop Partners notes Klean has 17 plastics recycling facilities running around the world and is looking to integrate the technology into many of them. The Klean chemical recycling process is classified as being in the "growth" stage of maturity.
Other projects underway that are targeting e-plastics for chemical recycling feedstock include:
CreaCycle, which is based in Germany and employs a solvent technology to purify polymers.
Jeplan, a Tokyo operation that is using pyrolysis to produce oils.
The Illinois Sustainable Technology Center, which is pushing forward both solvent and pyrolysis systems.
University of Ulsan, a South Korean institution that has a process to ease separation of ABS and HIPS.
The ultimate goal of the Closed Loop Partners analysis is to explain the types of efforts underway in the chemical recycling field and to bring investment dollars to the space to help companies scale up.
"While these processes are not new, technology providers are applying them in innovative and exciting ways," the study notes. "Investors and brands have an opportunity to influence and accelerate solutions that repurpose plastics waste and keep materials in play."
Photo credit: DAMRONG RATTANAPONG/Shutterstock

More stories about e-plastics