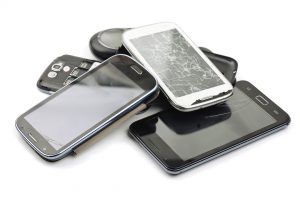 Florida-based Early Upgrade recently moved into a much larger warehouse and is buying a wider array of end-of-life devices.
The Jacksonville, Fla. company launched in 2009 as a small business buying and selling used mobile phones. Company founder Simon Levin started Early Upgrade with an emphasis on reuse: The company brought in a team of technicians to refurbish phones, harvest parts and swap parts between devices.
More recently, however, the company began looking to leverage that focus on reuse and resale on a wider scale.
"As the mobility space was getting more and more competitive, we've found the opportunity to use our expertise in mobility and the backbone we have in refurbishment, to pivot more toward the e-scrap and ITAD space," Todd Ingenito, president and head of business development for the company, said in an interview.
'Allow ourselves some room to grow'
Although the company's core business is mobile phones, tablets, laptops and other consumer electronics, it is now building out its processing operations to handle a wider array of devices, including server equipment and similar devices.
Early Upgrade recently moved from a space of less than 10,000 square feet to a warehouse totaling 95,000 square feet. The company is building a 10,000-square-foot refurbishment center in the new facility, taking in all asset classes, Ingenito said.
"We want to add a lot of different processes that we haven't had room for in the past, more specialized equipment for de-glassing, re-anodizing and things like that," he said. "We just want to allow ourselves some room to grow."
While some of the components harvested from inbound devices are resold to other companies, Early Upgrade prioritizes reusing the parts in its in-house refurbishment operation in order to maximize the value of output devices.
"We have so many devices flowing through the facility, from high end devices that we're getting directly from carriers to the lower end stuff that's coming in through the gaylords, that we're really trying to use as much as possible internally to remarket full phones rather than parts," Ingenito said.
The company does not do any shredding currently, instead sending devices that can't be refurbished or used for parts harvesting to a downstream recycler. This decision opens up some opportunities.
"What we really like is some of the assets that the traditional processors don't like: devices with batteries that are enclosed in them and things like that, which are generally higher end," Ingenito said. "For them it's less IC (integrated circuit) chips than the older phones and more labor to actually get into them."
When it comes to selling refurbished phones, about 10 percent of Early Upgrade's business is direct-to-consumer sales through traditional online platforms. But the vast majority is wholesale, with the company remarketing devices directly to companies. About half of devices sold by Early Upgrade stay in the U.S., Ingenito noted, and the rest are sold to clients around the world.
The processor's mobile division is handling about 50,000 fully functional handsets each month, he said. The e-scrap side of the business is smaller but growing. The new warehouse opened in March and the company began aggressively sourcing devices for processing. The company has 60 employees and has plans to increase its workforce with the larger warehouse space.
Plans for the future
Beyond its current facility growth, Early Upgrade has ambitions to expand its services further. For example, the company could come on-site to remove clients' devices and provide other direct collection services.
"Building out that division and that presence is definitely one of the next steps," Ingenito said.
As the company pushes further into e-scrap, Early Upgrade has taken note of some key differences between mobile refurb and more traditional e-scrap processing. The economics of shipping material is one prime example.
"From our traditional background in mobility you can put $500,000 worth of phones on a pallet and send it for $400," Ingenito said. "The freight-to-value ratio is much different than the scrap world. That's something we're adjusting to."
Currently, the company is sourcing its input from all over North America. Some inbound devices come through direct-from-consumer channels, but the majority of devices come through commercial sources, whether trade-in programs or other aggregation systems.
"It's great to get everything, say, 30% cheaper direct-from-consumer, but you're getting onesies at a time," Ingenito explained. "To really maximize our [quality control] lines and things like that, we need that aggregated mix."
Photo credit: Anton Starikov/Shutterstock

More stories about processors