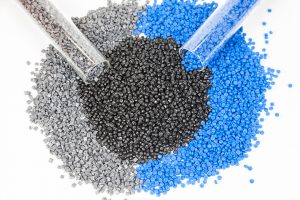 A plastics compounder has introduced a line of engineering-grade pellets, including some plastic types used in electronic devices, that contain up to 50% recycled content.
Star Plastics on May 2 announced ReStart, a resin product incorporating post-consumer and post-industrial recycled plastic for a variety of applications. The pellet line offers PC, PC flame retardant, PC/ABS and ABS options.
Although the feedstock sources are confidential, Star Plastics stated that the recycled content percentage in ReStart ranges from 35% to 50%.
"While we've been working with post-industrial recycled materials for a long time as an organization, the temperature of the industry regarding recycled content has definitely changed in recent years," Chuck Hoop, director of sales for the company, said in an email. "Sustainability has not always equated with value or high-performance, but with all the pressures on the plastics industry in regards to environmental issues, we decided to be a part of the solution."
In a release, Star Plastics noted that given the stronger push toward corporate responsibility, "brand owners, OEMs and plastic processors are turning to their suppliers for support." The release added that the ReStart line is designed for customers looking to meet sustainability initiatives.
Dell is one manufacturer that has been particularly aggressive in its use of e-plastics leveraging recycled content. And tech giant HP has a closed-loop recycling program, through which the company is recovering plastic from end-of-life electronics and recycling the material for use in new products.
According to Star, the ReStart pellets can be used in numerous applications, including electronics, lawn and garden, household appliances and more. The resin can be produced in all colors, the company stated.
Star Plastics is a West Virginia-based compounder that specializes in engineering grade thermoplastics. The company started off as a post-industrial scrap plastic processor, and has grown through the years to offer a wide variety of services.
A version of this story appeared in Plastics Recycling Update on May 8.
Photo credit: Kriengsak tarasri/Shutterstock
More stories about e-plastics