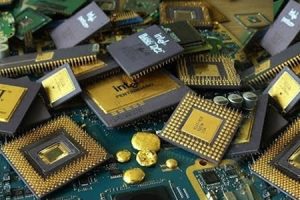 A North Carolina startup is working to scale up its ability to generate investment-grade gold from e-scrap components.
Evotus is building a plant in Raleigh to recover gold via a chemical dissolution process. Initially, the facility will take in computer processors or other components with over 1,500 grams of gold per ton. But the company hopes to later boost capacity and expand its capabilities to recover metals from lower-grade components.
"We're a full-service domestic solution here in the U.S. We don't ship anything at all overseas," said Derek Ramsell, founder and CEO of Evotus. "In addition to that, we're providing a very sophisticated platform to easily communicate with our suppliers and streamline that value to them in a very easy-to-understand, very clear, streamlined, sophisticated process."
Ramsell said he raised about $1.2 million for the company, which is building a 15,000-square-foot space. Evotus' chief operating officer is Howard Glicksman, a chemist who retired from a long career working with precious metals at DuPont.
Ramsell said Evotus purchased technology from a European company (he declined to identify the equipment provider). Also employed in the mining industry, the process uses acids in aqua regia to dissolve the gold, followed by sodium metabisulfite to precipitate the metal from the solution. Evotus will start with a capacity of about 500 pounds per day, running on one shift. Ramsell said the company's goal is to recover 98 to 99 percent of the gold to produce bullion.
"My whole purpose was to be able to provide value to the suppliers in a domestic solution," he said. Additionally, the company plans to use software that quickly and cleanly communicates with suppliers on metals values and payments, he said.
Evotus will install the equipment in April. The company plans to start buying e-scrap in late April or early May. Ramsell expects Evotus will be at full capacity in July.
In the company's initial system, other mixed metals will be retained in a composition that requires further processing. Ramsell said Evotus is looking at either storing those materials until it can install additional processing technologies or sending them to a refinery in the region.
Eventually, the company plans to develop a 40,000-square-foot facility with a capacity of 30 tons per day. That plant would take in a variety of feedstock, including PCBs, and produce a number of metals, Ramsell said.
"We look to some exciting growth and expansion opportunities once we get this plant up and going," he said.
Last year, E-Scrap News wrote about a different refining startup in North Carolina called All Green Recycling. Leaders at that Charlotte company also emphasized their desire to create a domestic outlet for generating clean, separated precious metals from high-grade components.
Photos courtesy of Evotus
More stories about metals