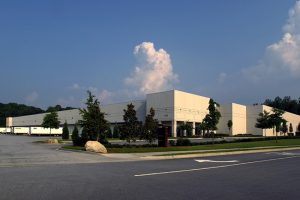 EPC has opened a large processing site in Atlanta, improving its reach into the Southeastern U.S. market.
Headquartered in the St. Louis suburb of St. Charles, Mo., ITAD company EPC already has a number of U.S. locations spanning three time zones. Device shredding and commodity recovery takes place at the company's 104,000-square-foot processing facility in Wright City, Mo. E-Scrap News wrote about that plant's opening in January 2017.
The recently opened Atlanta location totals 65,000-square-foot, making it EPC's largest site outside of Missouri. The operation is expected to employ 40 people within a year, according to a press release.
A number of different activities will take place there, including receiving, asset tracking, data destruction, equipment testing and processing, recyclables collection and triage, order fulfillment, imaging and shipping. It will also be home base for shredding trucks and a mobile data destruction team.
"The reality is that most businesses don't want to pay to have antiquated equipment shipped very far. Therefore, it makes good business sense to continue to expand our geographic footprint in the United States and globally," Dan Fuller, EPC president and founder, stated in the release.
EPC and its Canadian sister company, CSI EPC, now have North American locations in Allentown, Pa.; Atlanta; Calgary, Alberta; Columbia, S.C.; Houston; Kansas City, Mo.; Las Vegas; Oakville, Ontario; Vancouver, British Columbia; and Wright City. E-Scrap News recently wrote about the opening this month of the Vancouver location.
EPC is a subsidiary of St. Louis-headquartered CSI Leasing, which leases IT equipment to companies in a number of industries. EPC handles electronics from its parent company that are no longer being leased, and other used devices owned by clients.
Outside of North America,  CSI-owned ITAD companies also have locations in Latin America and Europe.
Photo courtesy of EPC.
More stories about processors