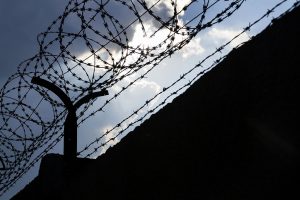 Former e-scrap company executive Kenneth Eugene Gravitt was sentenced to three years in prison after pleading guilty to hazardous waste-related crimes.
Gravitt, 63, owned Global Environmental Services (GES), which was based in Kentucky and is now bankrupt. Chief U.S. District Judge Karen Caldwell on Nov. 9 sentenced him to prison time, followed by three years of supervised release.
GES pursued a business processing CRTs into a sand-like material for sale into construction markets. The company advertised charging less than what competitors were charging to take CRT glass. GES closed and filed for bankruptcy in 2015.
Federal prosecutors in February 2017 first charged Gravitt with crimes related to the management of CRT glass. The case was filed in U.S. District Court for the Eastern District of Kentucky. Later, in October 2017, they filed amended charges.
Prosecutors charged Gravitt with storing CRT glass at three unpermitted facilities, disposing of glass at a landfill not permitted to take hazardous waste, burying glass in a large hole behind the company's Georgetown, Ky. headquarters, and transporting hazardous waste without a manifest.
On May 7, 2018, the same day his trial was set to begin, he pleaded guilty to two of the eight counts. He pleaded guilty to conspiring to illegally store, transport and dispose of leaded CRT glass, and he pleaded guilty to knowingly storing hazardous waste at the unpermitted GES Winchester, Ky. warehouse. The U.S. Attorney's Office dropped the remaining counts.
In late June, Gravitt asked the court to set aside his guilty plea and allow him to proceed to a trial. Judge Caldwell denied the request.
The U.S. Attorney's Office for the Eastern District of Kentucky issued a press release on Nov. 9 after his sentencing. The Lexington Herald-Leader newspaper also wrote about his sentencing and provided additional details about the case.
In a Nov. 15 judgment, Gravitt has been ordered to surrender to prison by 2 p.m. on Jan. 8, 2019, to begin serving his his sentence. Caldwell recommended Gravitt, who now lives in Austin, Texas, be housed in a facility closest to his family in Kentucky that is best equipped to handle his medical needs. She also recommended he participate in a mental health program.
After GES went bankrupt, the company had its assets purchased by Dynamic Recycling (now called Dynamic Lifecycle Innovations), which began serving former GES clients. The U.S. Attorney's Office said the costs to clean up former GES sites have totaled "several million dollars."
"As reflected in several victim impact statements, the warehouse owners have been saddled with hundreds of thousands, up to millions, of dollars in remediation costs," prosecutors wrote in a court filing. "Two owners have been unable to fund the required remediation and face bankruptcy or a state or federal bailout."
Photo credit: josefkubes/Shutterstock
More stories about courts/lawsuits