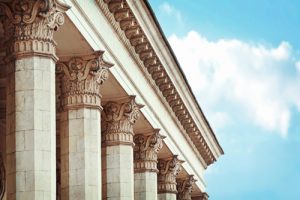 After dismissing an earlier indictment because of errors, federal prosecutors have filed revised charges against Kenny Gravitt, the owner of now-closed e-scrap firm Global Environmental Services.
The indictment, which was filed on Oct. 12 in the United States District Court at Lexington, Ky. and first reported on by the Kentucky-based News-Graphic newspaper, stems from the alleged illegal storage and disposal of CRT material by Global Environmental Services (GES). Owned and led by Gravitt, GES closed in 2015 after being caught burying ground-up CRT glass on the property of its Georgetown, Ky. headquarters.
A February indictment against Gravitt was dismissed in August at the request of prosecutors after errors in the background section of the document were identified, court records show.  Prosecutors vowed to re-indict the former e-scrap executive, however.
The new document issued by a federal grand jury largely mirrors the first. It includes one count of conspiracy and seven counts of hazardous waste management crimes. The chief difference between the two is in the timeline of the events leading up to GES' 2015 closure, as reporting by News-Graphic first pointed out.
Each of the eight counts against Gravitt carries a maximum fine of $250,000 and a maximum prison sentence of five years.
In an emailed statement, Gravitt told E-Scrap News he was not guilty and would "again defend our position."
He is set to appear in court on Nov. 14.
More stories about courts/lawsuits