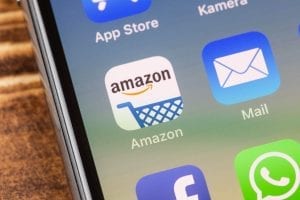 Listings for used Apple products sold by independent resellers will be removed from Amazon's platform early next year.
The elimination of non-Apple-authorized refurbishers' products is the result of a new deal between Apple and Amazon. Motherboard reported the agreement allows Amazon to sell the newest Apple and Beats products, and, in exchange, Apple will get to choose who can sell used Apple products on Amazon Marketplace.
Listings from unauthorized sellers will be removed starting Jan. 4, 2019.
Refurbishing and repair shops will likely have to become authorized Apple service providers before they'll be allowed to resell on Amazon, according to CNN. In the authorized service provider program, repair shops must have a commercial space where customers can walk-in and they must use only official Apple parts.
After Jan. 4, independent shops can still sell refurbished and repaired Apple products on other sites such as eBay and Craigslist, but, as CNN pointed out, Amazon dwarfs all others in market size while providing more fraud protection for sellers.
In related news, Amazon recently announced its new Amazon Second Chance program, through which consumers can trade-in and return eligible Amazon devices for reuse or recycling. Amazon's recycling partner is Re-Teck, part of Li Tong Group.
Separately, global e-commerce site eBay recently announced a service to buy consumers old phones, called eBay Instant Selling.
Photo credit: Nicole Lienemann/Shutterstock

More stories about refurbishment/reuse