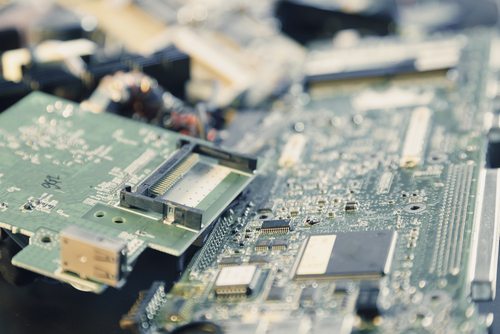 BlueOak Arkansas, a circuit board processing operation that received significant attention for its use of a plasma furnace, appears to be shuttering.
Multiple local sources said the workforce at the Osceola, Ark. plant has been reduced to a handful of employees.
In addition, E-Scrap News received confirmation on the closure from multiple industry sources with knowledge of the operation, although none would speak on the record for this story.
E-Scrap News' voice messages and emails to Priv Bradoo, CEO of related company BlueOak Resources; Ahab Garas, CEO of BlueOak Arkansas; and Mike Hyman, a former BlueOak executive, were not returned. Calls to BlueOak Resources' headquarters in Burlingame, Calif., as well as the company's toll-free number, were also not answered.
The facility voluntarily discontinued its R2 certification in early October, according to Sustainable Electronics Recycling International (SERI), which administers the R2 standard. SERI declined to share additional details about why the certification was discontinued.
The Arkansas facility's website has been removed, although BlueOak Resources' homepage still has a link to the domain.
The Arkansas facility has been in development for several years and has garnered significant attention for its use of an innovative technology for precious metals recovery. The plant employed a Tetronics plasma metal recovery system to recover metals from PCBs. According to Tetronics, the furnace is capable of greater than 98 percent precious metal recovery rates. The system is powered entirely by electricity and has a processing capacity of about 20 million pounds annually, according to BlueOak.
But despite the excitement about the burgeoning furnace technology, the system ran into early obstacles. Shortly after the furnace was installed, it malfunctioned and was destroyed by fire and molten metal. The November 2015 incident, in which molten metal leaked through a hole in the furnace, spurred insurance payments of $10.5 million to BlueOak to cover the damages.
It led to a lawsuit between BlueOak's insurance provider, furnace supplier Tetronics, and a subcontractor on the project. The lawsuit is ongoing.
BlueOak garnered large investments early on, drawing more than $35 million from Silicon Valley investors as well as Arkansas state agencies, including the Arkansas Teacher Retirement System. Former Vice President Al Gore and Arkansas Gov. Mike Beebe spoke at the facility's 2014 groundbreaking.
The Arkansas Teacher Retirement System did not return an E-Scrap News request for comment on the closure and what it means for the agency's investment.
Those investments were secured in part by $30 million in New Market Tax Credits, which are designed to attract investors to fund projects in low-income areas, according to the New Markets Tax Credit Coalition, an advocacy group that wrote about BlueOak's use of tax credits.
Photo credit: science photo/Shutterstock
More stories about processors