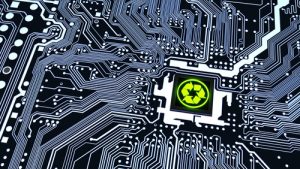 BlueOak announced that in the next few weeks it will begin operating a smelter aimed exclusively at e-scrap.
BlueOak Arkansas will accept all of the circuit boards processed and shredded by Cohen Electronics, an Ohio-based e-scrap processor.
BlueOak has a unique position in the industry, because its smelter will begin accepting end-of-life electronics without commingling with other materials, according to BlueOak Arkansas CEO Ahab Garas. Its innovative plasma furnace system will smelt printed circuit boards (PCBs) completely and is capable of greater than 98 percent precious metal recovery rates, according to U.K.-based Tetronics, which developed and manufactures the technology. It's powered entirely by electricity and has a processing capacity of about 20 million pounds annually.
Plasma furnace
The BlueOak facility in Osceola, Ark. broke ground in 2014 and completed construction the following year. Since then, it has been collecting PCBs, shredding them, determining the metals content and sending them to suppliers in Germany.
Meanwhile, the company has been working on its furnace, a Tetronics plasma metal recovery system, enabling it to recover precious metals from PCBs on-site. The shredded materials are fed into the furnace, which employs a plasma torch and runs between 1,300 and 1,600 degrees Celsius, according to a Tetronics description of the system.
The PCBs melt into three fractions: A third is organic material that offgasses during the process, a third becomes molten slag composed of what would otherwise turn into ash in the melting process, and the final third becomes a molten copper-based layer containing the precious metals.
"The furnace is the distinguishing factor, it's what makes this project unique in the world," Garas told E-Scrap News.
After treatment in the furnace, BlueOak will granulate the metal and, initially, sell it to other refineries for further processing into specific metals. But the company plans to install its own refining equipment at the facility after about 10 months of furnace operations, Garas said. The refining capabilities will be installed in phases, focusing first on copper, followed by gold, silver and other metals.
"It really takes about 10 months to roll out each one of those individual phases," Garas said. "You can't role them out all at the same time. So you need the support of industry around the world while you're bringing this on-line."
The organic offgas material will be fed into the furnace multiple times until it contains no precious metals, Garas said. The slag, which is sometimes referred to as the trademark Plasmarok, will be sold as aggregate for road construction. BlueOak is also using it to pave the roads at its Arkansas facility.
Cohen contract
The furnace is nearing completion and will begin melting PCBs in the coming weeks. In the meantime, BlueOak has contracted with Cohen Electronics to receive all of its processed PCBs. Although an exact figure is not public, Adam Dumes of Cohen Electronics describes it as a "significant volume."
"We've been saving material and we supplied enough to meet 100 percent of their needs," said Dumes, president of Cohen Electronics, adding that the company's shredder puts out about 100,000 pounds of material per day.
The Middletown, Ohio-based company was drawn to BlueOak initially because of its story, Dumes said. The Arkansas facility is a subsidiary of BlueOak Resources, founded by Privahini Bradoo and Bryce Goodman.
BlueOak garnered substantial investments early on, drawing more than $35 million from Silicon Valley investors as well as Arkansas state agencies, including the Arkansas Teacher Retirement System. Former Vice President Al Gore and Arkansas Gov. Mike Beebe spoke at the facility's 2014 groundbreaking.
"I'm proud to align ourselves with people that are so accomplished and have the support of the investments they have," Dumes said.