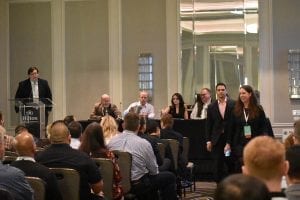 At the Electronics Reuse Conference this week, a number of speakers delivered practical tools and tips that can help refurb operations boost efficiency and profitability.
Hosted by consulting firm E-Reuse Services, the event was the 15th iteration of the conference and drew 374 professionals from the device repair sector to Nashville, Tenn. Workshops and sessions covered a wide spectrum of topics – lithium-ion battery concerns, the evolution of certification, microsoldering best practices and opportunities for financial investment, to name a few.
In the conference opening session on Monday, a panel discussed the threat of thermal events caused by improper handling of lithium-ion batteries.
According to Charlie Monahan, director of regulatory compliance at Panasonic, between 2015 and 2020, manufacturers tripled the output of lithium-ion batteries worldwide. And such growth is expected to accelerate. "The amount you see out there now is nothing compared to what we'll be seeing in the future," Monahan said.
That means processors need to be increasingly prepared for taking in items that are prone to conflagration if punctured or otherwise improperly handled.
Craig Boswell of recycling and refurb firm HOBI International said at his facilities they have digitized work orders to decrease the amount of flammable paper on work benches. Employees also have non-metallic tools at the ready to swipe batteries to the concrete floor if an event occurs. "It burns up and it smells bad, but it's over in about 20 seconds," Boswell said.
Boswell also encouraged facility managers to engage local fire authorities before any emergency takes place. It's critical that firefighters know that lithium-ion batteries are likely to be inside a given facility.
"One of the things that's come up recently is firefighters being injured," Boswell said. "They come in thinking it's a typical structure fire. And then a box of batteries goes off."
Success with parts and people
Another session focused specifically on how to most cost-effectively target and remarket parts in recovered devices.
Matt Young of ITAD company Electronics Value Recovery offered a guiding mantra when it comes to generating revenue through parts harvesting: "More is more." He noted that if processors can gather large numbers of one kind of part, they will start to stand out in the market.
"If you have 10,000 of the exact same component, you will have end users' interest about a million times more than if you have 20," Young explained.
Elsewhere at the event, Mike Buckles, president of Holmes ITAD System, described a number of techniques an operator can use to develop a strong team of workers.
He said that all new production workers at Holmes' 50,000-square-foot facility are hired on a contract basis, so that managers will have 90 days to determine whether each hire exhibits the reliability and attitude needed to thrive in the operation.
Once workers make the cut, the company works to support them through subsidized medical, dental and vision as well as a guarantee they'll get 40 hours of work each week, even when there are holidays.
Additionally, Holmes contracts with a service called Marketplace Chaplains, which provides professionally trained counselors to workplaces. The idea is to give employees an outlet to discuss life and family issues they may be encountering.
"They cost about $10 per person per week," Buckles said. "And it takes a load off management."
An FYI on funding
Attendees also received insight on how to score outside investment to grow their operations – or set themselves up for retirement.
Though speaker Chris Ko is currently CEO and co-founder at multi-site processor ER2, he spent the first part of his professional career in the world of venture capital.
He said we're in the midst of a particularly compelling moment in the world of corporate investing. Due to the tax cuts passed by Congress and signed into law by President Trump, large companies have had more capital on hand, which they have put into the market. That fact has left investment firms with more money to spend.
Ko said $57 billion of venture capital was invested in the first two quarters of 2018, the highest six-month sum in a decade.
How can electronics recovery companies get in on the action? The key is to show investors that by putting capital behind a firm, those investors can start seeing a payoff immediately.
"This needs to be now," Ko stressed. "They want to see purchase orders in hand and people lined up at the door." He added that financial backers will be wanting to see 35 to 45 percent return on investment annually. "You need a business that can dominate," he noted.
But he also said it's important for the operator to ask their own questions of a potential investor and make sure the two sides are aligned. He's seen numerous examples, for instance, of a business owner getting unexpectedly pushed out of leading operations because investors felt someone else could do a better job.
"This is a marriage," Ko said. "You better trust that partner with your life because one way or another something bad is going to happen down the line."
Photo credit: Electronics Reuse Conference (top) / E-Scrap News (bottom)
More stories about refurbishment/reuse