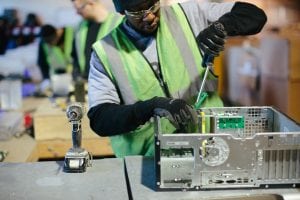 A nonprofit electronics processor is spending millions of dollars to vastly expand its footprint in the Twin Cities area.
Tech Dump will buy a 90,000-square-foot building in St. Paul, Minn., the Minneapolis Star-Tribune reported.
Tech Dump is a division of Jobs Foundation, a nonprofit group that provides job training and experience for adults facing barriers to employment. E-Scrap News featured Tech Dump as its Know Your E-Scrap Processor in the June 2017 print edition.
The Star-Tribune reported Tech Dump used a number of financing sources to buy the property, including Sunrise Bank, nonprofit support organization Propel Nonprofits and a $130,000 grant and $170,000 low-interest loan from the city of St. Paul.
Tech Dump currently has an 11,000-square-foot location in Golden Valley, which is just west of Minneapolis, and a 32,000-square-foot facility in St. Paul. It processes about 5 million pounds a year.
The company plans to begin occupying the new space in January. More details on the move-in plans were laid out in a press release. The acquisition will allow Tech Dump to double staff to 100 and revenue to $7 million by 2022, the newspaper reported.
Photo courtesy of Tech Dump.

More stories about processors