For e-scrap recycling organization Tech Dump, it's not all about the recycling. It's also about the people doing the work.
"Tech Dump was founded to create jobs for people with barriers to employment, such as time in the justice system or prior addiction, and to protect the environment from electronic waste," said Darin Anderson, recycling manager at the Twin Cities-area nonprofit organization.
Today, the company and its retail outlets "form an innovative social enterprise that demonstrates how sound business principles can be a force for good," he said.
Founded in 2011 in Plymouth, Minn., Tech Dump currently has a total of 43,000 square feet of processing space on both the west and east sides of the Minneapolis-St. Paul metropolitan area. Of the total 5 million pounds processed each year, about 15 percent flows through the Golden Valley facility and 85 percent through the St. Paul location.
When it comes to collections, Tech Dump takes in material dropped off at its facilities and at collection events. It is registered with the Minnesota Pollution Control Agency as both a collector and recycler participating in the state's extended producer responsibility program for electronics.
As one example of a collection effort, it is holding what it calls the Cell Phone Summer drive. the goal is to collect 1 ton of mobile-phone material before Labor Day. The company says that total would generate revenue for roughly 1,000 hours of work for an adult with barriers to employment. The drive launched on June 10 via a "Kickoff Cell-e-bration" with games, a selfie-station, food, drink and other summer fun.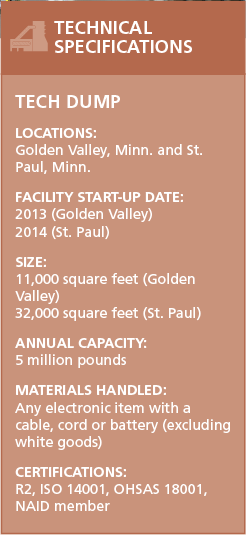 Material coming in the door at Tech Dump's processing facilities goes first through a sorting process to determine which devices can be refurbished and reused and which will be disassembled so their components can be sent downstream for further processing.
Tech Dump is able to refurbish roughly one-fifth of what comes in the door. In its first five years, it salvaged more than 15,000 computers for reuse.
Instead of tossing other scrap items into a shredder, the enterprise employs a manual electronics dismantling process. Anderson said the process allows for the maximum ability to sort and reclaim materials. A video highlighting its operations notes that a staff member can fully disassemble a computer in about three minutes.
The manual process also generates more jobs, a key part of Tech Dump's mission (Tech Dump is a division of the nonprofit Jobs Foundation). Tech Dump currently employs 50 people, many of whom have jobs for the first time.
"A lot of our staff come to Tech Dump and perhaps they haven't held an honorable job before," Amanda LaGrange, CEO of Tech Dump, said in a video highlighting the operation. "They have great negotiation skills and other job skills, but they haven't had the requirement to show up to work every day, on time, ready to work. … We provide a safe place to learn those skills."
In 2016, Tech Dump launched a retail extension called Tech Discounts, which has stores in Golden Valley and Bloomington, Minn.
Tech Dump was also one of the founding members of a national network of social enterprises called Impact Recyclers. The network model provides clients a central point of contact, improved efficiency and the assurance they're sending material to for-profit and nonprofit organizations that provide jobs for people with disabilities or previous incarcerations, according to a press release announcing the formation of the network.
Formed in 2015, Impact Recyclers is now made up Tech Dump, Indianapolis-based Recycle Force, Los Angeles-based Homeboy Recycling and Grand Rapids, Mich.-based Comprenew.