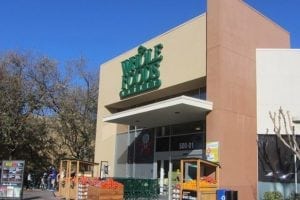 Whole Foods Market California and two companies it owns will pay over $1.6 million to settle allegations they improperly disposed of electronics and hazardous wastes.
The company is the latest to settle with prosecutors in California over alleged violations of state hazardous waste laws. The deal was approved in a court in Yolo County, which is near Sacramento in northern California.
District attorneys from around the state alleged Amazon-owned Whole Foods Market California, Mrs. Gooch's Natural Food Markets and WFM-WO mishandled batteries, electronic devices, ignitable liquids, aerosol products, cleaning agents and other materials over a five-year period, according to a Sept. 20 press release.
As part of the settlement, the companies will pay $1.2 million in civil penalties, $202,800 to reimburse the costs of the investigation, and $237,900 to fund supplemental projects furthering consumer protection and environmental enforcement. They must also hire an employee to strengthen their hazardous waste programs, according to the release.
The court's judgment requires them to properly dispose of material at authorized facilities.
The press release noted the companies were cooperative throughout the investigation and prosecution.
The settlement comes four months after cable services company Cox Communications agreed to pay $3.3 million to settle allegations it improperly disposed of e-scrap and other materials in garbage dumpster. In that case, prosecutors also claimed the company discarded customer records without rendering personal information unreadable.
An in-depth article in the summer 2018 print edition of E-Scrap News explored the underlying issues that can lead retailers to violate hazardous waste laws.
Photo courtesy of Yolo County District Attorney's Office.
More stories about courts/lawsuits