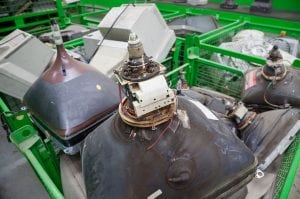 An upcoming South Carolina processing facility will handle CRTs, circuit boards, scrap plastics and more, a company leader has confirmed to E-Scrap News.
Green Tech Solution, backed by Chinese investment firm Tianjin Sheng Xin Non-Financing Guarantee Co., plans to process nearly 50 million pounds of CRTs per year and hundreds of millions of pounds of scrap plastic, company CEO Richard Yang said in an interview.
The $75 million Blacksburg, S.C. facility is slated to come on-line early next year. The company is currently looking for buyers and sellers to work with. Green Tech is also interested in talking to companies about new technologies that could be installed in the facility.
"We are open to all the options," Yang said.
The Green Tech operation, sited about halfway between Charlotte, N.C. and Spartanburg, S.C., is located in a 380,000-square-foot building that sits on 62 acres. The building is currently being renovated and upgraded, and it is slated to become operational in early 2019. It was announced earlier this month.
CRT processing capabilities
In its initial phase, the facility will focus on CRT and copper wire processing, Yang explained. During the second half of 2019, the circuit board and plastics processing lines will come on-line.
The plant will process e-scrap with an emphasis on CRT devices. In the eastern U.S., many CRT collectors have to ship the devices to processors in Ohio, Illinois or Canada, Yang explained. The new facility aims to help alleviate that transportation pressure.
The CRT line uses equipment that heats and melts the lead frit joint between the CRT screen and the tube so they can be separated. Crushed glass will be shipped to Europe to be used in tile manufacturing, Yang explained.
The facility will include two of the CRT lines, and each will be capable of processing about 2,000 CRTs per day. Yang estimated that will equate to between 40 million and 50 million pounds per year.
Besides CRTs, Green Tech will shred a wider array of e-scrap and sort the resulting precious metals commodities for sale to downstream outlets.
The company is also talking with a metals refining company that is interested in installing equipment to do some refining on-site. If the companies decided to work together, it would be at least a year before the refining component would be added, Yang said.
Tackling plastics
In addition to e-scrap, Green Tech is incorporating a plastics processing operation at the facility. It is focusing on post-industrial plastics but will also process some post-consumer e-plastics. It will buy post-industrial PET, HDPE and PP, and it will purchase engineered plastics such as ABS.
"We are working with two industry veterans who already have facilities in different states," Yang explained.
The company will shred, wash and pelletize the plastic at the Green Tech facility. The plastic processing line will not open until at least mid-2019, Yang said, because of its size.
It will have a plastics processing capacity of roughly 1 million tons per year, Yang said.
"You've got to have volumes to make money on plastics," he said.
Company joins other Chinese investments
Green Tech's parent company, Tianjin Sheng Xin Non-Financing Guarantee Co., also owns North Carolina e-scrap processor USB Recycling. The company also recently opened a scrap metal processing plant in Malaysia. That facility processes mostly copper wire and is currently buying nearly 50 containers per month.
Yang, who also serves as president of the Carolinas Chinese Chamber of Commerce, has helped several Chinese companies invest in North and South Carolina over the last six years.b South Carolina is particularly attractive for investment due to government incentives, as well as the local labor force, Yang explained. The Green Tech facility will create 200 jobs when fully operational.
"I try to take them to those high unemployment areas where people need jobs," Yang said.
Photo credit: VILevi/Shutterstock
More stories about processors