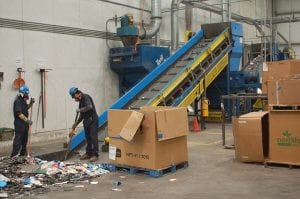 Last month, readers were most drawn to articles about the closure of ECS Refining, although they also read news about health risks for e-scrap workers and CRT disposal criminal charges.
The list below shows our top stories published in July in terms of unique page views.
1 | ECS Refining goes out of business
A national e-scrap processor that previously filed for Chapter 11 bankruptcy will see its assets sold and over 300 jobs terminated under a plan recently approved by a federal judge.
2 | A look at the fate of material left in wake of ECS
E-scrap processor Dynamic Recycling has signed a deal to buy assets from bankrupt company ECS Refining. Meanwhile, environmental and cost complications are popping up around facility cleanup efforts.
3 | Studies quantify e-scrap workers' exposure to toxics
Bathroom doors, a water cooler handle, a refrigerator – their surfaces carried lead, cadmium and other hazardous metals, according to studies at two e-scrap facilities.
4 | Owner of Florida processor arrested over CRTs
Maria Delgado-Loubriel, who runs Legie E-Scrap Recycling in Jacksonville, Fla., faces felony charges for improper management of hazardous e-scrap.
5 | Gravitt seeks to rescind guilty plea
A CRT recycling company owner has asked a judge to withdraw his plea of guilty to federal criminal charges.
Photo credit: Resource Recycling file photo.