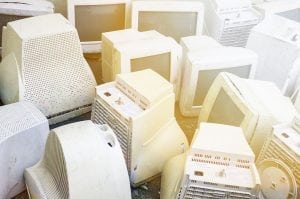 Maria Delgado-Loubriel, who runs Legie E-Scrap Recycling in Jacksonville, Fla., faces felony charges for improper management of hazardous e-scrap.
Delgado-Loubriel, 60, was arrested July 16 with bond set at just over $10,000, according to documents from the Jacksonville Sheriff's Office.
The arrest stems from hazardous waste violations observed this spring by state environmental regulators at a Jacksonville site. The location contained thousands of pounds of material that had allegedly been abandoned by the e-scrap company.
Investigators from the Florida Fish and Wildlife Conservation Commission and the Florida Department of Environmental Protection note in warrant documents that an uncovered 30-foot roll-off container behind a warehouse formerly occupied by Legie contained between 200 and 250 CRT computer monitors, some of which were broken, in addition to other old devices.
Inside the 4,800-square-foot warehouse, investigators found a variety of materials, including pallets of CRTs and loose piles of CRTs and other e-scrap material.
The inspections occured in late April and early May. Around that time, state regulators were notified by the property landlord that Legie was in the process of being evicted due to failures to pay back rent.
"The owner of the warehouse where the electronic waste was abandoned was forced to pay in excess of $23,500 for the removal and transportation of in excess of 47,000 pounds of hazardous waste," an official from the Florida Fish and Wildlife Conservation Commission stated in an affidavit for Delgado-Loubriel's arrest warrant.
Jacksonville TV station WJXT, which first reported the development on July 19, noted that Delgado-Loubriel had been released on bond.
Her arraignment is set for Aug. 7.
Photo credit: Scarc/Shutterstock

More stories about courts/lawsuits