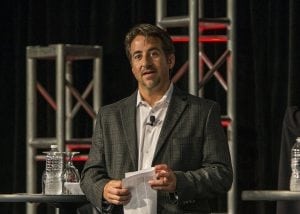 The organization that administers the R2 e-scrap recycling standard has elevated Corey Dehmey to the executive director role. He replaces John Lingelbach, whose exit from the group was announced earlier this year.
Sustainable Electronics Recycling International (SERI) made the announcement this morning. Dehmey has been working for SERI for four years, most recently serving as its R2 director.
Previously, Dehmey held sustainability and compliance management roles at Pennsylvania-based processor AERC Recycling Solutions.
In a release, SERI noted the leadership move comes at a time of evolution for the group.
"Corey has the energy and commitment to carry out SERI's recently completed strategic plan, which envisions, among other things, an expansion of the SERI's international footprint, technical assistance for recyclers in developing countries, and continuous improvement in the oversight of the R2 certification process," the group stated.
Lingelbach stood at the helm of the R2 standard since it was introduced in 2008. He was head of the certification's original housing body, called R2 Solutions, and oversaw the transition to SERI several years ago.
In March, SERI announced Lingelbach was resigning from the group to pursue other interests.
Worldwide, nearly 800 electronics recycling and repair facilities are now certified to the R2 standard.
"I am honored for the opportunity to build on the achievements and success of my mentor, John Lingelbach," Dehmey said in the release. "I look forward to continuing SERI's mission. We have a great strategic plan to further sustainable reuse and recycling."