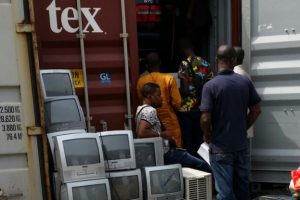 A two-year study has highlighted key details about e-scrap exports to Nigeria, including the different device types entering the country, methods used to ship them and countries of origin.
The study, which was authored by the Basel Convention Coordination Centre for the Africa Region as well as United Nations University, was released April 19. It found that roughly 60,000 metric tons of scrap electronics and electrical appliances were sent to Nigeria in 2015 and 2016. Of that amount, at least 15,400 metric tons – or more than 25 percent – were not functional devices. These imports violate the Basel Convention, according to the report.
The study also found that some 77 percent of the imports originated in European Union countries. Besides breaking rules set out by the Basel Convention, shipping non-functional electronics violates the EU's Waste Shipment Directive.
Researchers noted that "that none of the illegal shipments resulted in consequences for the exporters or importers."
The study, which looked at two Nigerian ports, examined the various methods of shipping e-scrap into the country. It found a surprising yet popular tactic. Of the imports entering the country, nearly 70 percent of the material arrived in "vehicles destined for Nigeria's second-hand auto market," according to the release. Other e-scrap was imported in containers or in cargo vehicles, also known as roll-on/roll-off vehicles.
The used car method represents "an import route never before thoroughly assessed," according to the release.
The research also determined that end-of-life electronics bound for Nigeria is now regularly coming from China, a country that has traditionally been a recipient of electronic discards from other nations.
Of the 260 metric tons of CRT devices shipped to Nigeria in 2015 and 2016, roughly 23 percent came from ports in China, the study determined. Other top senders of CRTs included the U.S. (15 percent), the U.K. (14 percent), Spain (14 percent), Italy (8 percent), Hong Kong (4 percent) and the Netherlands (4 percent). Those shipments entered Nigeria despite CRT imports being banned by the government.
Of all e-scrap and waste electrical material entering Nigeria, flat-panel LCDs made up the largest category, at 18 percent. More than half of these were not functional. CRTs were the next highest category at 14 percent.
Outside of the EU, China and the U.S. were the top exporters of material to Nigeria. Each country sent about 7 percent of the total imports.
The study was funded by the U.S. EPA and Germany's Ministry of Economic Cooperation and Development.
More stories about research